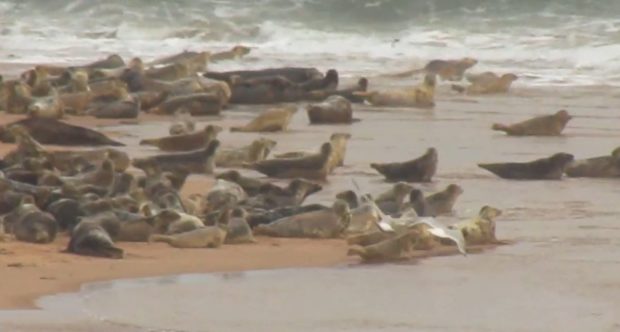 Fresh calls have been made for environmental chiefs to take a tougher stance on people disturbing seals at a north-east estuary.
Forvie National Nature Reserve, at Newburgh, is home to a large colony of the creatures.
The spot is popular with the public, with visitors looking to catch a glimpse of the marine mammals.
But there have been repeated calls for them to be better protected by local conservationists, after a number of incidents which led to stampedes.
Stampedes 10,11,12&13 Of Our 2018/19 Season

Scottish Natural Heritage continue to allow visitors to the Forvie NNR to harass a legally designated Seal haul-out unchecked, unmanaged and without enforcing any signs that the visitors are blatantly ignoring. This includes an illustrated map to show visitors where to walk. The first stampede was caused by a visitor who climbed the dunes walking round from the river. It was not caused by the people in the background. They caused the second stampede.The last two stampedes were caused by the last group. They effectivly emptied the entire haul-out of Seals and started the first stampede walking round the corner which caught us out. They then photogrpahed the stampede walking along the beach. They walked past the legal warning sign, again choosing to ignore it, before starting another stampede in the group of seals at the back of the haul-out. The Seals had been out for the last two days undisturbed. Suddenly flushing them into the sea like this can cause the seals serious problems. They need to rest, moult and breed and that is what they were legally protected to do and this is what SNH and their poorly managed and enforced visitors are preventing by harassing them every weekend.We uploaded a video this past week to explain what we do and why and we have added it to the comments. The fence makes no difference to us. Standing behind it does not permit disturbing the Seals and we monitor every visitor who enters the designated site. That is also explained in the video.Please always view the Seals from Newburgh beach. That way you do not risk harassing the Seals. All the information on how to do that and information about the Seals legal protection is in our pinned post.Thank youYSW Team

Posted by Ythan Seal Watch on Sunday, 25 November 2018
Since May last year it has been an offence to harass the seals, after the Scottish Government brought in legal protection and made it an official haul-out.
However Ythan Seal Watch, a group that monitors the site, claims the law goes unenforced and has called on the government agency Marine Scotland and Scottish Natural Heritage (SNH) to step up the pressure on people breaking the rules.
In the past week there have been three disturbances at the reserve, most recently on Sunday.
Six visitors managed to scare off more than 1,000 seals in just an hour while they were resting and moulting, with some also heavily pregnant.
Lee Watson, from the conservation group said: "What we really need is to be hearing more from SNH and Marine Scotland.
---
>> Keep up to date with the latest news with The P&J newsletter
---
"There needs to be a better system for the public to report incidents if they see someone harassing seals.
"At present, if someone visits Newburgh and they see someone disturbing the seals they have no way of reporting it except through us.
"It's happening every single week. People are just continuing to ignore the signs.
"Before it became designated we were just having to ask people to not disturb them, but now we should be holding them to account because of what's on the signs."
Under the rules, harassment constitutes action that causes a "significant proportion" of seals on a haul-out to leave that site either more than once, repeatedly or abandoned completely.
Mr Watson says this makes it difficult for action to be taken against unauthorised visitors because it is often a different group each time.
The Scottish Government has urged anyone who witnesses seals being harassed to contact the police.
A spokesman said: "The Ythan was identified as an important location for grey seals, which is why Scottish ministers designated it as a seal haul-out site in 2017 to provide additional protection from intentional or reckless harassment."
"The Scottish Marine Wildlife Watching Code provides advice on how to minimise disturbance to marine wildlife, including seals, when enjoying the Scottish coast."
Gavin Clark, SNH operations manager for Tayside and Grampian, said: "We have employed staff over the summer to help tackle this issue and have erected signs on the main routes leading to the haul out – visitors will have passed at least four signs before getting close to the seals.
"We have also issued guidance online and in the media on several occasions and are working with the local community to promote facilities for responsible access from Newburgh.
"We keep our management under review and have met to discuss and agree our approach with Marine Scotland, Police Scotland, the local access officer and the members of Ythan Seal Watch on several occasions."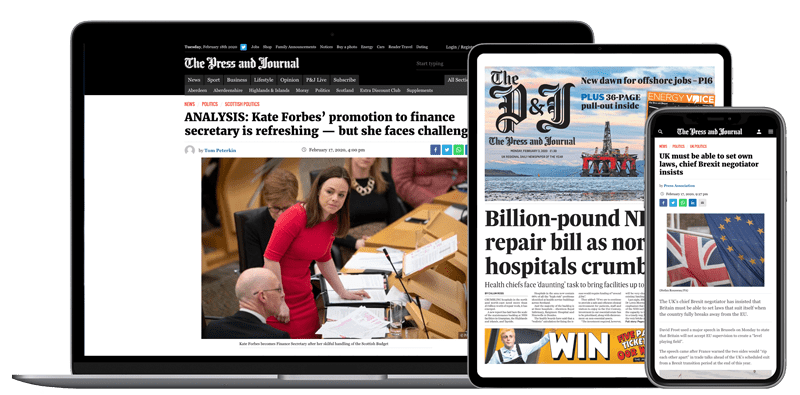 Help support quality local journalism … become a digital subscriber to The Press and Journal
For as little as £5.99 a month you can access all of our content, including Premium articles.
Subscribe