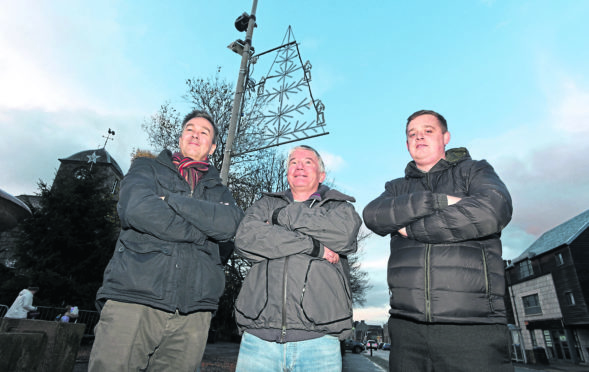 A north-east town faces being left without Christmas illuminations after Scrooge council bosses claimed they could be a danger to the public.
Kintore's traditional festive lights have been outlawed by Aberdeenshire Council, which has branded them "too heavy" after introducing new lamppost weight restrictions.
It said the town's hugely popular display – which has taken place without incident for many years – could be a risk to the public and damage 'street furniture'.
Local fundraisers have been granted a year's reprieve – meaning this year's switch-on will go ahead – but face replacing the vast majority of their lights.
That is a hugely expensive prospect – with the team having to raise an estimated £8,000 – and raises the spectre of Christmas 2019 passing without the town's display taking place.
---
>> Keep up to date with the latest news with The P&J newsletter
---
Kintore traditionally marks the festive season by erecting and decorating a large Christmas tree in the town square and mounting Christmas lights on lampposts throughout the town.
The switching-on of the lights has become a major event, with Santa handing out gifts to children and the Kintore Pipe Band playing for crowds.
But that is now in jeopardy following the introduction of new regulations restricting the weight that can be hung on each lamppost.
That has rendered 17 of the 23 lights unusable and the offending lights will need to be replaced before next Christmas.
A spokesman for the Kintore Fundraising Team, which is solely responsible for raising funds for the lights, said: "The lights are very popular with residents and visitors and the switch-on has proved to be an extremely popular event with people young and old.
"The lighting also makes an enormous and positive impact on those passing through the village.
"It would be sad for Kintore not to be lit up at Christmas."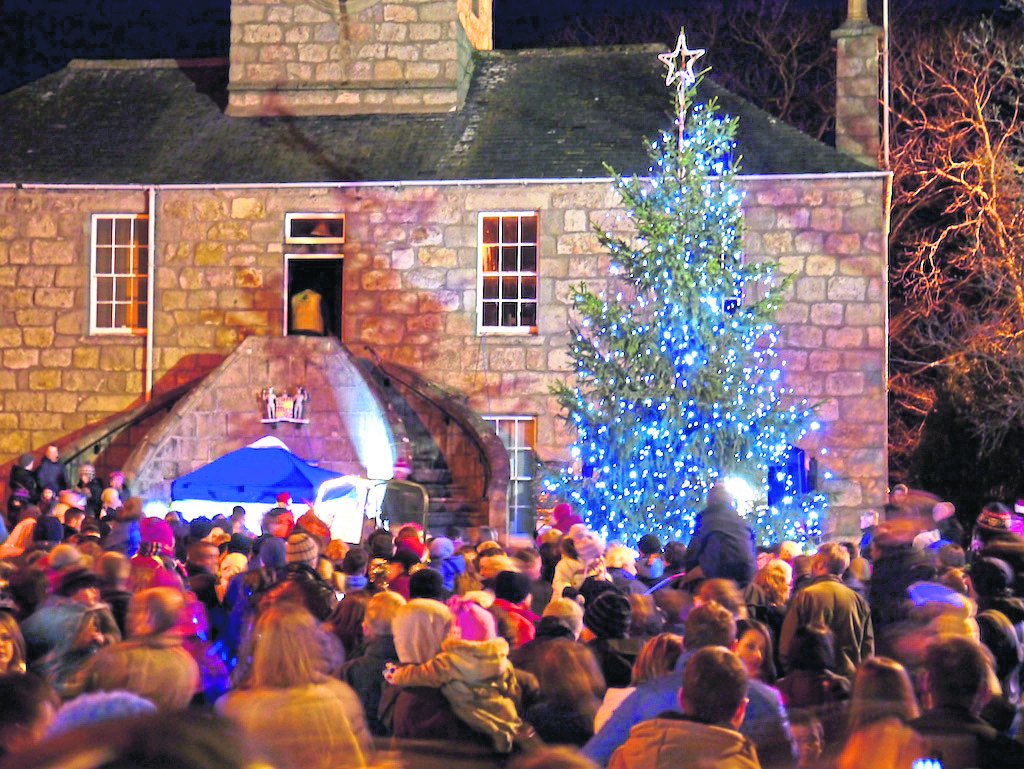 He added: "We do not receive any funding whatsoever from the council and nor do they provide any manpower or technical assistance.
"We have happily operated in this way for many years – until now.
"This has had a cataclysmic effect on our funds and threatens the future of the Christmas lights."
Though the team intend on replacing the lights, they will need £8,000 to do so.
To this end, they are embarking on a major fundraising effort and are looking to the public for help.
Aberdeenshire Council said it recognised that festive lighting "helps bring additional colour and sparkle to our town centres in the middle of winter," but warned against "the potential danger to the public or damage to street furniture that could arise through unregulated installations".
The council pledged earlier this year to continue funding Christmas lights, voting down a proposal that would have passed the cost of electricity for public displays on to constituents.