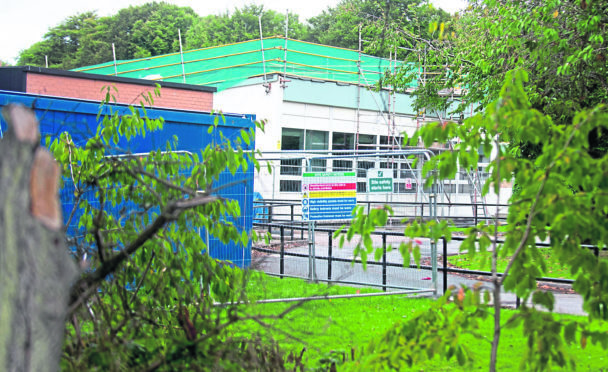 Parents have accused Aberdeenshire Council of putting their children at risk following a fire sparked by construction work.
Gordon Primary School in Huntly was evacuated after the blaze broke out on Tuesday, near the end of the school day.
The council claimed the janitor managed to extinguish the small blaze, but around 10 firefighters were called to the school and used a hose reel jet, small tools and cutting equipment to ensure it was fully under control.
The authority later confirmed the fire was started accidentally when contractors were finishing up roofing work.
But the works have previously caused fury among parents, after their children returned from the summer holidays to find the playground was a "building site".
The families of 14 pupils pulled their children out of the school amid complaints contractors were using blow torches on the roof, fire exits were being blocked and lessons were being disrupted by construction noise.
Last night, one dad said he was "absolutely raging" at the council for placing his two daughters Makayla, 10, and Madison, nine, at an "entirely avoidable" risk.
Richard Cox works in health and safety, and served as an airport firefighter for 15 years.
He said: "I raised my concerns about them carrying out 'hot work' on the roof with children underneath. I told the school I wanted to know when this work was being done so I could remove my girls out of the school. They went ahead and did this without telling me.
"My concern was that something would happen to one of the children, and also that even if they got out, there was potential for psychological damage of seeing the school go up in flames.
"Now everything I said has come to fruition. The potential for risk was huge and they just totally disregarded it."
There have been growing calls from parents for a new "fit for purpose" school, with the parent council previously warning of "significant risks" with the current building.
Gordon MP Colin Clark said he planned to meet with council representatives to discuss safety problems at the school.
He said: "I understand the school provided space inside the building for parents to wait to collect their children after the fire.
"Given the time of year and the poor weather, that seems to have been a sensible measure. However, like the parents, I am losing patience with the council on Gordon Primary."
An Aberdeenshire Council spokesman said: "A final check of the roofing works at Gordon Primary on Tuesday led to a further small piece of felt being applied around a rainwater outlet at one of the exits, to make doubly sure it would be robustly watertight in the long term.
"Initial findings show this application led to smouldering underneath the surface which was detected and quickly extinguished."
---
>> Keep up to date with the latest news with The P&J newsletter