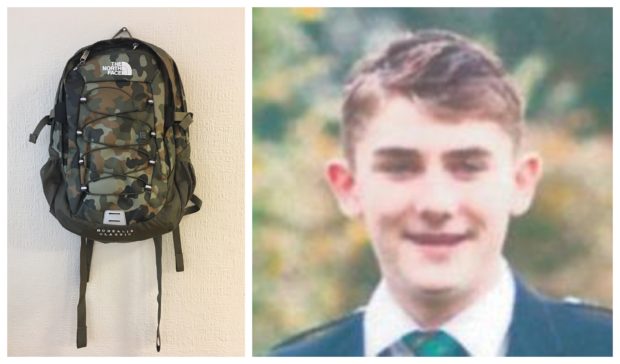 Extensive ground searches have continued for missing Aberdeen teen Liam Smith but police say they have ruled-out scores of reported sightings from concerned members of the public.
Officers are continuing to concentrate on the Crathes area as they believe the 16-year-old alighted from the 202 Stagecoach bus there and they received a credible sighting of Liam nearby on the day he went missing.
The 16-year-old has not been seen since Saturday November 17, when he was filmed entering Union Square shopping centre in Aberdeen, shortly before boarding a bus bound for Deeside.
Searches continue in Crathes to trace missing teenager Liam Smith
Since then, 139 members of the public have come forward to report possible sightings of the teenager in various locations across the North East including Inverurie, Kemnay and Rothienorman.
All of these have now been eliminated by police after studies of CCTV and identification of the young men who were believed to be Liam.
As the search enters its twelfth day, Chief Inspector Martin Mackay last night said they were being "realistic" and that the teen's disappearance was causing everyone "great concern".
He said: "Every available police resource has been dedicated to our search for Liam and it continues to cause us all great concern that he has not yet been found.
"Eleven days is a long time for a teenage boy who has little experience of the outdoors to be missing and as more time passes without seeing or hearing from him, we need to be realistic about the options we have moving forward."
Chief Inspector Mackay praised the offers of help they had received from the public to help with what he said had been a difficult search.
"The terrain we are entering with regard to our searches is extremely challenging – not helped by the current weather – and even our own officers are finding it difficult to navigate certain areas," he said.
"They are trained and experienced to do this though and we will continue to ensure that all the land we need to cover is searched effectively."
"I must stress just how challenging the land is we are dealing with ranging from dense wooded areas to expanses of water and we don't want anyone put in harm's way.
"Organised public searches can also be very resource and time-intensive to coordinate and our time is extremely precious at the moment."
The chief inspector said people could nonetheless help by walking around the Crathes Estate area, but added: "Please help us by sticking to visible routes and paths and don't put yourself in any danger.
"If you find anything of any significance let us know as soon as possible.
CCTV images show Liam Smith entering Union Square shopping centre in Aberdeen
"I welcome anyone's efforts to keep an eye out for anything that could help us locate Liam."
The Westhill Academy pupil, who is "very tall" and walks in a distinctive manner, was carrying a camouflage-coloured North Face rucksack and wearing Nike Air Max trainers when last seen.
CI Mackay also urged anyone to come forward if they can shed light on why Liam would have been heading to Deeside.
He said: "It would help us if he has mentioned places of interest to you in the past.
"Please let us know.
"Finally I would ask the public to continue supporting our efforts, which have so far included sharing our social media posts to printing off posters.
"The response to our appeals has been unprecedented and it has not gone unnoticed by Liam's family or by us."
Anyone with information can call Police on 101.