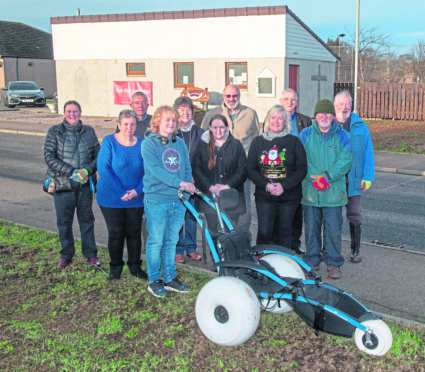 An Aberdeenshire charity which supports a wide range of activities around its rural community is hoping to win our minibus competition.
Belhelvie Community Trust was formed in 2014 and covers not only the village itself but also Balmedie, Blackdog, Potterton and Whitecairns.
Led entirely by volunteers, the trust supports many existing projects in these areas including The Sand Bothy, Balmedie Beach Wheelchairs, Belhelvie Banter and the Potterton community group.
And now the group hope to win the Press and Journal's minibus competition to expand and "bridge the gap" for young and elderly members of the community by offering transport.
The competition, sponsored by Nexen, gives one lucky group in the north of Scotland the chance to win a £40,000 17-seater Ford Transit from AM Phillip.
Rosie Nicol, secretary for the group, said: "The parish is a widespread one, so community, social, health, religious and catering facilities can really only be reached if you have a car.
"A community bus would be invaluable, for young and old alike.
"Blackdog no longer has a bus service, and public transport can now only be accessed with a mile-long walk – which is isolating some less able residents in the village.
"We have spoken to one of the medical centres locally who are willing to offer us a block of times that appointments could be set aside for anyone getting a lift on the minibus – if we are successful.
"We also help, in a variety of ways, the Balmedie congregational church, Belhelvie church and Balmedie primary school.
"The bus would make a huge difference across all the age groups in our community. It could be used by the local scout and guide groups too – it's so important that individuals and groups can take part in community events and socialising."
Registration for the 2019 competition is open and tokens are available in your Press and Journal until February 3.
Groups are encouraged to register online where entrants can access a whole host of information to encourage their community to help collect tokens.
Groups can enter as many times as they like, as long as each entry form has 50 tokens attached.
All entries must be received by February 11.