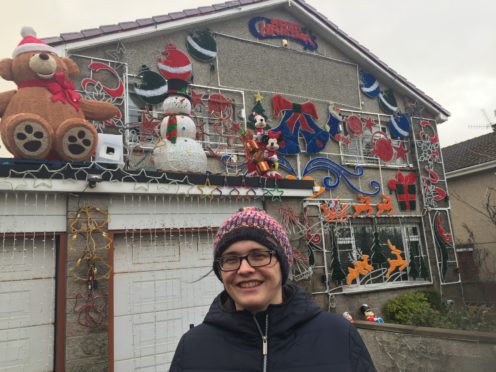 It has become one of the must-see festive attractions for the Mearns area and takes four weeks to construct.
And Newtonhill couple Kirsti and Scott McArthur are now ready for the big unveiling of their Christmas light display this weekend.
Mrs McArthur, a 37-year-old school teacher, said she was looking forward to showing off the lights which help raise vital cash for local causes.
"I think the community kind of expect us to do it now," said Mrs McArthur.
"Last year we raised just over £2,500 and split the money between the Bettridge Centre and the Butterfly Trust – we will be donating anything raised to them both again this year."
Hundreds of people are expected to witness the switch-on tomorrow at 7pm on St Peter's road.
Mrs McArthur said her structural engineer husband had started decorating their home shortly after the birth of their first child four years ago and has "just kept going".
She added: "I think we have maxed-out as far as capacity goes – we don't physically have room for any more – unless we move to a bigger house.
"We must have spent around £8,000 on lights, over the years I reckon.
"Scott keeps an eye out all year for bargains – it's not uncommon for me to get Christmas light deliveries in July."
Even the couple's eldest daughter, four-year-old Jess, has started to help out.
"We start at the beginning of November," said Mrs McArthur. "Just after Jess' birthday. She's starting to show a real interest in it now and is really excited. Her little sister Rose is just one, so she doesn't get too involved at the moment."
The couple are laying on some mince pies and hot drinks for the first people who make the trip to the switch-on event.
Mrs McArthur said: "We don't know how many people will turn up, so we might run out – there will be mulled wine and hot chocolate – and the collection post box for any donations."