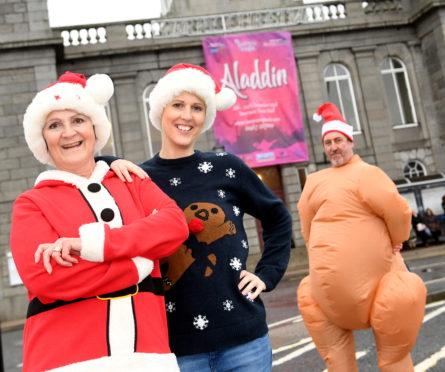 A kind-hearted community group will be ensuring Christmas cheer is spread far and wide when they serve up turkey and all the trimmings on the big day.
Cath and Jamie Robertson along with some of their friends will open the doors of Inverurie Town Hall to serve up lunch to scores of people who, for whatever reason, find themselves on their own.
The couple, along with friends, launched the initiative for the first time last year and were bowled over by the level of response.
Now, under the banner of For the Love of Garioch, the group hope this year's event will be an even bigger success.
Mrs Robertson said: "I don't think people realise just how many people there are out there on their own in Garioch.
"There's people who probably don't see someone from one day to the next, or they can't reach out to someone for whatever reason.
"With all the trappings of the day it's easy to forget about that, we just wanted to make sure everyone has someone on the day."
There will be room for about 80 people in the town hall with lunch lasting from 12.30-3.30pm.
About 20 of those will be volunteers, some of whom will be cooking the turkey and other food and some who will be serving.
All the food has been provided by local businesses along with donations from other shops to help with the day.
There will also be music, carols, a quiz and other entertainment.
Mrs Robertson said: "We're hoping to have a big mix of people there this year, it's a community event, we don't want people thinking it's a soup kitchen – it's just a chance for everyone to get together and have a nice day.
"It's great to see so many people there enjoying themselves and making new friends."
The group wants to use the Christmas Day event as the jumping-off point to having similar initiatives throughout the year.
To book a place call 07546 721975 or email loveofgarioch@gmail.com