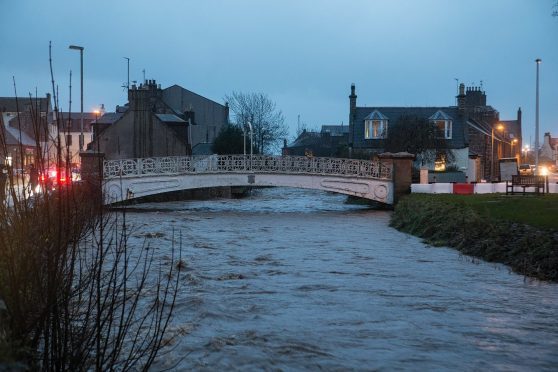 Work will begin early next year to deliver a long-awaited £16 million flood protection scheme for Stonehaven.
The town has been repeatedly blighted by flooding over the past decade and in September was identified the Scottish Environment Protection Agency as an at risk community.
The seaside town was badly affected by flooding in 2009 and 2012 and was again threatened as Storm Frank swept across the country in 2015.
Residents have spoken of "living in fear" of future flooding as plans for a more effective flood scheme have stuttered.
Now, however, the Northern Ireland-based firm McLaughlin and Harvey Ltd has been appointed by Aberdeenshire Council to deliver the project, with work to start imminently.
Project lead and principal engineer Rachel Kennedy said: "We are well aware many people in the town will be delighted to see this progress.
"Flooding is not a distant memory in Stonehaven and it's hard not to think of it every time it rains heavily."
The contractors are likely to be on site for the next two years as they make wholesale improvements to the town's defences.
They have a track record of such projects, having recently worked on the £14 million Water of Leith flood protection scheme in Edinburgh.
The Stonehaven project will see alterations to the five bridges along the River Carron and the construction of flood walls between the Red Bridge and the river mouth.
There will also be a pedestrian walkway constructed from the Bridgefield Bridge to the beach.
A community liaison officer has been appointed as part of the contractor's team and will be involved in updating the community as the scheme progresses.
Chairman of Aberdeenshire Council's infrastructure services committee, Peter Argyle, said: "Clearly everyone is keen to see this important protection for the town in place at the earliest opportunity."
Landowners directly affected by the works will be contacted by members of the project team to speak about the next steps of the project and what that will mean for them.
Stonehaven suffered from flooding in 2009 and 2012, with a number of properties damaged as the River Carron burst its banks.
During the worst of the flooding, 50 people had to be evacuated from their homes.
In an effort to protect residents, the Stonehaven Flood Wardens were established in 2011 and now have more than 30 members, who knock on doors and inform the public about the situation during flood warnings.