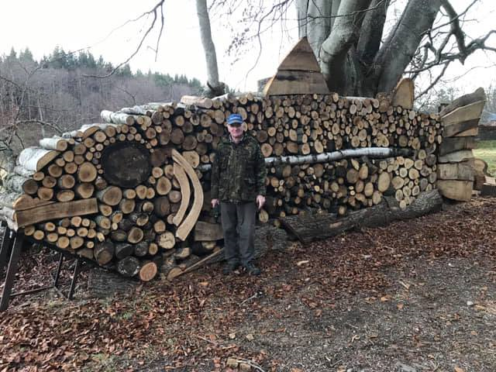 A Deeside fisherman has made a salmon out of logs – and named it after the storm that battered the region three years ago.
Julian McHardy, who owns fishery Wooden Beat at Banchory, was forced out his home for 18 months after storms Frank and Gertrude, which hit within weeks of each other.
He said: "Our house and all our buildings were flooded by Storm Frank in 2015.
"There was a huge, 500-year-old oak tree, and the flooding loosened its roots.
"A month after came Storm Gertrude, which blew the tree down.
"I gave the wood to a cabinet maker, and all the stuff he didn't use was left in a pile.
"I found a Norwegian book about chopping, stacking and drying wood the Scandinavian way.
"In it was a pictured of a salmon made of logs, and so that gave me the idea.
"I work full-time so I did a little bit every weekend – it took me a couple of months.
"I enjoy messing about with wood, so it was a lot of fun."