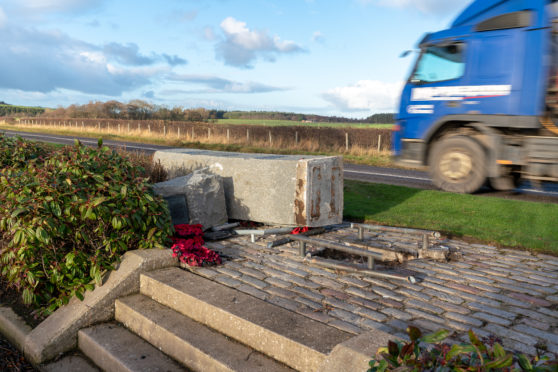 A north-east war memorial is being left in an "appalling" and "disrespectful" state until after the new year.
The RAF Banff Strike Wing memorial alongside the A98 Banff to Portsoy road was badly damaged by a car on December 2.
Poppies, which had been lain on Armistice Day in remembrance of those who served and lost their lives, are still strewn around the giant granite block on the ground.
The force of the vehicle's impact bulldozed the monument to the floor.
Mintlaw resident, Mark Grant, who has driven past the site on several occasions has criticised the council for leaving the memorial in its current condition.
He said: "I noticed the Press and Journal story about the Banff Strike World War 2 memorial being knocked down a few weeks ago.
"I have since passed it three times and was amazed it was still lying on its side. There is no sign of tidying up, wreaths are still lying about and there is no police tape around it.
"It's an absolute disgrace that the local council has not had the respect to pick it up and take it away for remedial work.
"They will no doubt use the excuse that they are awaiting insurers to assess the damage, but to leave it like that with poppy leaves strewn about is incredibly disrespectful."
The memorial was erected almost 30 years ago in tribute to airmen based at Boyndie, near Banff, during World War 2.
Established as a strike wing at RAF Banff in 1944, the unit targeted supply ships off the Norwegian coast vital for the Nazi effort.
Mr Grant added: "I suspect the council will use an excuse such as waiting for an insurance assessor to visit it, but given what the memorial is for, it shows complete disrespect for the men who fought in the Second World War.
"They could have explained the situation to the insurer and taken photos before lifting it and taking it away for repair.
"If it is nothing to do with insurance, then that's even more appalling."
An Aberdeenshire Council spokesman confirmed they were awaiting an inspection of the site.
He said: "It is unlikely that the Banff Strike Wing Memorial will be repaired until the New Year as the damage will need detailed assessment.
"However, we are taking the necessary steps to get the memorial back as it was, as soon as practically possible.
"The War Memorials Trust have been in touch to offer their assistance.
"The council's priority in the meantime is to make sure that the memorial is safe and secure."
Police have charged a 29-year-old man with alleged drink-driving offences in connection to the incident.