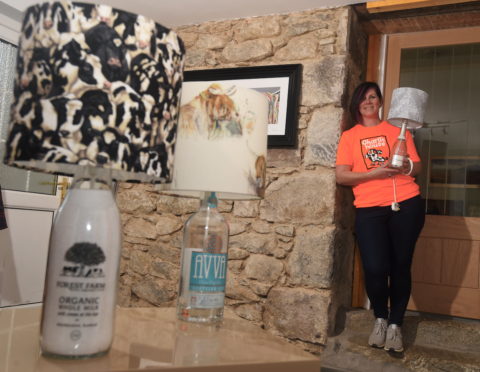 An Aberdeenshire jewellery designer has raised more than £5,000 for charity following a creative lightbulb moment.
Lynne Anderson  is preparing to take on the gruelling Charlie House Ascends Machu Picchu (CHAMP) challenge.
By up-cycling bottles into table lamps, the Newmachar mother-of-two has raised £3,000 and a further £2,000 from a raffle and other donations for the charity.
In the last two months, she has sold more than 100 lamps – all made from wine, gin and milk bottles and tartan or printed lamp shades.
"I have had the majority of bottles donated," said Mrs Anderson. "Friends and family keep giving me their empties.
"I was just looking for some other way to raise money for our CHAMP challenge, but didn't just want to ask people for money.
"So I looked online for ideas and decided to try and make a lamp bottle myself – they have proved very popular and have really taken off."
Mrs Anderson is part of the 36-strong team who will be taking on Machu Picchu next year. Each team member has pledged to raise £4,300 to get to a target of £150,000.
The money will go towards the charity's appeal to build a specialist support centre in Aberdeen for children with complex disabilities and life-limiting conditions, and their families.
Their efforts will fund one of the bedrooms within the £8million respite centre.
Other facilities will include a teen den, sensory gardens, a craft room, spa room and a bereavement room.
Tracy Johnstone, chairwoman of Charlie House said: "We're delighted to have Lynne take part in the 2019 CHAMP team trek to Machu Picchu in aid of the charity. Her fantastic handmade gin lamps have proven exceptionally popular and driven forward her fundraising efforts hugely.
"We can't thank Lynne and her teammates enough for their terrific support of the charity to date."
Mrs Anderson's bespoke lamps are on display in the Newmachar Hotel; Glam at Kingseat; Kilts Wahey, Newmachar; and Forest Farm Dairy. To find out more, visit www.facebook.com/lynneslamps