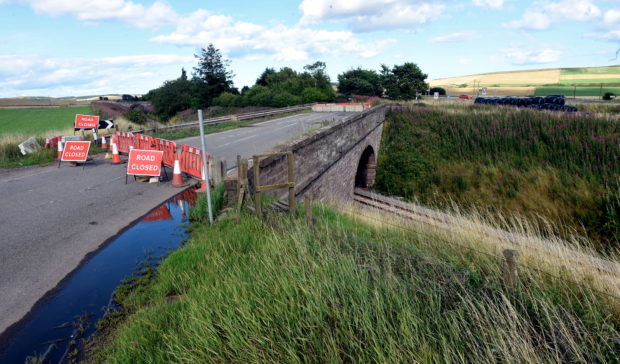 An iconic Aberdeenshire bridge is being demolished, but the possibility of a replacement being built remains in doubt.
Workers moved in on Abbeyton Bridge, which has stood for 170 years, on Christmas Eve in a three-day operation to bring down the dangerous structure.
The span,  which carries the B966 over the East Coast mainland, has been closed since July because it was crumbling under the weight of passing traffic.
Aberdeenshire Council's infrastructure services committee approved £1million of measures to demolish the bridge before it collapses.
It emerged that, should it become apparent that an emergency closure is needed to safeguard the railway line, it could cost the council between £1m and £3m a day.
Local traders have expressed concerns for travel in the area.
Aberdeenshire Liberal Democrat councillor Peter Argyle, who is also chairman of north-east transport body Nestrans, confirmed that a decision on whether to replace the bridge was still to be made.
He said: "Whether we will be in a position to replace the bridge remains in question. Our capital budget is very stretched this year.
"The bridge was inspected and it was found to be in a dangerous state, the original idea was to close it to traffic, but unfortunately, that is insufficient.
"To do it over Christmas will cause less disruption, so it is well timed."
However, Robert Armstrong, of Middle Toucks Farmhouse in Stonehaven, said clarity must be given urgently for local traders.
He added: "This week, Aberdeenshire Council's contractors will demolish the Abbeyton Bridge on the B966 near Fordoun.
"It is unsafe and the decision to remove it is understandable, however there are no current plans to replace the bridge, which is ominous.
"Brilliant local businesses such as the nearby Castleton Farm Shop rely on the access that this road once provided for its customers and the road's closure risks having a serious financial impact.
"It is difficult to believe that this problem just arrived overnight and begs the question as to how much of the council's infrastructure is being inadequately maintained.
"The bridge needs to be replaced and the council must make a firm commitment to do so now and show its support for our high-quality rural businesses."