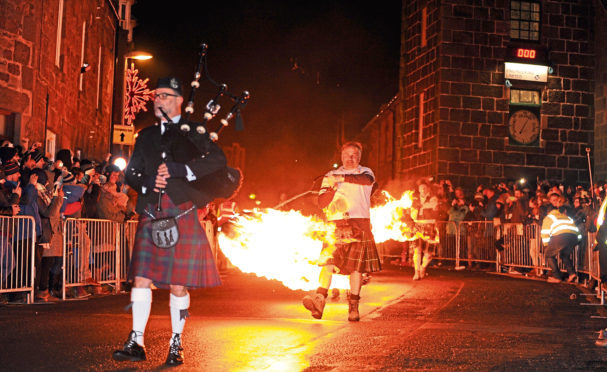 Final preparations are being made in Stonehaven to herald the arrival of 2019 with its world-famous free street event.
The town's traditional Fireball spectacle can be traced back to the early 1900s and involves 50 locals swinging homemade fireballs above their heads through the streets beginning at the stroke of midnight.
Thousands are expected to line the pavements as the participants make their way through the town centre to the harbour, accompanied by the pipes – where the blazing balls are sent flying into the waters at the harbour.
The ceremony is regarded as one of the best Hogmanay spectacles in Scotland.
Fireballs event organiser Ross Milne had earlier appealed for more volunteers to marshal the event. He said: "We have had a good response and have now got our full quota of volunteers.
"The weather forecast looks good – so we are expecting a capacity crowd."
The 'swingers' themselves are made up of 50 locals who are chosen due to having a strong connection to the town either being current or past residents.
Mr Milne added: "It is about burning out the bad before starting the New Year fresh and has its roots in pagan beliefs.
"The fireballs are lit just before midnight so that when the clock strikes we are ready to go. From 10pm in the town crowds begin to gather around the High Street to find a good place."
Street entertainment has been laid on in the form of the Newtonhill Pipe band, Aberdeen's Guarana  Samba drumming band and new for this year a fire performance displays from Edinburgh-based PyroCeltica.
The Fireball Ceremony starts in Stonehaven at midnight and visitors are advised to arrive early. For more information, please visit: www.stonehavenfireballs.co.uk