Window cleaner wears kilt every day to raise funds for disabled friend
Window cleaner Peter McKay has put up with a lot of strange looks over the past year after deciding to wear a kilt every day as a way of raising money for a disabled friend.
The 29-year-old, who lives in Gartly near Huntly, says fellow shoppers are often caused to double-take as he strolls around buying groceries in the traditional garb, while keeping his modesty intact while clambering up ladders can prove a challenge.
Mr Mackay chose to embark on the unusual mission in honour of friend Nettie Lolly, who suffers from spinal injuries and needs new wheels worth £4,300 for her wheelchair.
---
>> Keep up to date with the latest news with The P&J newsletter
---
The father-of-two began the challenge last March, when he assumed the worst of the winter weather would have passed – but he was left facing freezing blasts from the latter stages of the Beast From The East.
He has raised £1,100 towards his £4,500 target, and has now resolved to continue wearing his cherished McKay clan tartan until he has cracked the fundraising goal.
Mr McKay, who mainly works in and around Inverurie, said: "Customers thought I was mad until they understood why I was doing it.
"I have now decided I am just going to keep going with it, even though it can be difficult on wet and windy days.
"It can be tricky to keep things modest when I'm going up the ladder, but I have a tool belt which helps keep everything in place.
"Nettie, who lives down the road in Rhynie, is over the moon about it, and she is such a helpful, genuine person that she is definitely worth the effort."
Mr McKay began cleaning windows seven years ago and became self-employed in 2015.
He remains determined to continue the challenge in all weather, and was cleaning windows in Insch this week while temperatures plummeted amid the first snowfall of the year.
And his children, four-year-old Oliver and two-year-old Amelia, have now grown so accustomed to the sight of him in a kilt that they would find it strange if he began to vary his attire.
Mr McKay added: "If I was ever to go back to wearing trousers they would probably wonder what I was doing."
Disabled Nettie's life could be transformed by window cleaner's kilt challenge
Ms Lolly has had to use a wheelchair since she was a toddler, but has not let that prevent her from living a full life.
The Rhynie woman, who gets by with the assistance from helper dog Horace, was born with a tumour which caused her spine to twist and her organs to be displaced.
However, she did well at school and began participating in disabled sports at national level for under 16's.
After leaving school and college, she got married and held down a full-time job in an office while running a home and raising her children.
In her late 30s, the strain of having to rely on her arms and shoulders to get about started to take its toll, and she suffered painful rotator cuff tears and other injuries.
She later acquired a motorised wheelchair to help her get about outdoors, but the bulky six-wheeled model has presented problems of its own.
The large wheelchair means she can not access friends' homes or certain shops, restaurants and public buildings as it can not climb steps higher than an inch or cross some door thresholds.
It is also too bulky to fit in many accessible taxis, or bus and train compartments reserved for wheelchairs.
But recent advances in technology have resulted in the creation of new wheels which would allow her to resume using a manual wheelchair without any strain on her body.
The Alber Twion wheels are themselves motorised, can fit on any standard wheelchair, have a battery range of around 12 miles, and are light enough for her to 'wheelie' up and down steps as she used to.
Any money raised beyond the £4,300 required for the wheels will go to the Spinal Injuries Scotland charity.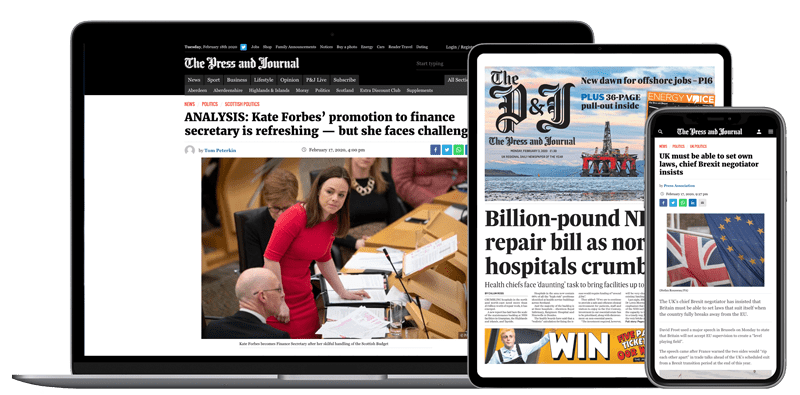 Help support quality local journalism … become a digital subscriber to The Press and Journal
For as little as £5.99 a month you can access all of our content, including Premium articles.
Subscribe