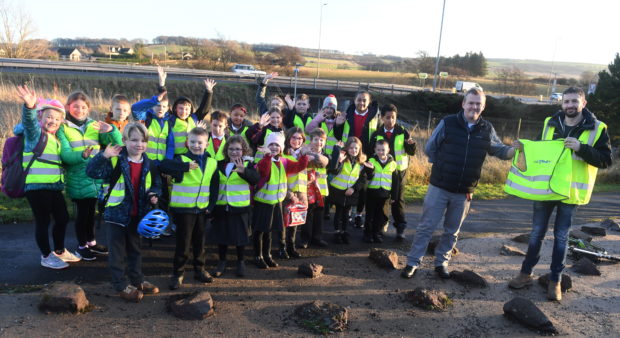 A community-conscious oil and gas firm has stepped in to ensure children get to a Mearns school safely.
About 20 youngsters attending Redmyre Primary in Fordoun walk along Old Aberdeen Road on their way to and from school.
However, with the demolition of Abbeyton Bridge and the temporary closure of Fordoun bridge, there has been a significant increase in traffic on the road, including heavy goods vehicles, using it as an alternative route.
The 170-year-old Abbeyton structure was dismantled as it was threatening to collapse on to the railway line below, and a wall collapse has made the Fordoun llink unsafe.
This has sparked fears in the community that pupils could be endangered by passing vehicles.
Now subsea company Neptune Marine Services, which is based in the village, has stepped forward to help allay those concerns.
The firm has presented high-viz vests to the school for pupils.
Dave Gaulding, one of the parents of the group affected, said the firm had always been quick to support the community.
He said: "We're delighted because it will help increase safety on the road and it also goes to show just how active Neptune is in the Fordoun community.
"The firm regularly makes a donation to our Christmas party in the village hall and this was when they found out about the issue.
"It's very nice to see a big company play their part."
Neptune said it was important to maintain "close links" with the village, where its factory is based.
A spokesman said: "Our health, safety, environment and quality manager recently gave a talk with pupils giving an insight into the oil and gas industry and what services Neptune provide. Due to the recent road closures and increased traffic in the area, Neptune were delighted to provide high visibility vests for the pupils to wear going to and from school especially in the winter months when visibility is poor."
A spokeswoman for Aberdeenshire Council said: "We are continuing dialogue with the owner of the retaining wall to agree a way forward and meantime the road and the bridge remain closed.
"There's no further update than that at this point. We would encourage drivers to take caution and care when passing the surrounding areas of any of our schools."