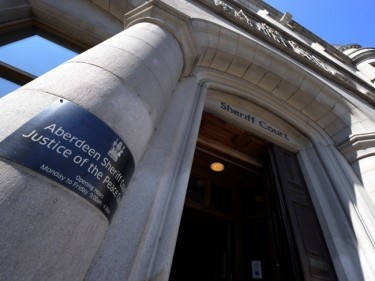 A man who caused severe injury to himself and his partner by driving a car at 100mph on a north-east road before crashing has been banned from the roads for seven years.
Corey McAlpine had been attending an event for people with high powered vehicles to show off their capacity in Midmar.
The event had finished and he left and entered the B9119 Tarland to Echt Road and began to show off by driving at fast speeds with his partner in the passenger seat.
He was seen coming one way then coming back the other.
The 24-year-old came round a bend at speed, entered an opposing carriageway, forced another vehicle to take evasive action and came off the road and collided with trees.
He confessed to dangerous driving during a previous appearance in Aberdeen Sheriff court where he returned to be sentenced.
Fiscal depute Jamie Dunbar told the court: "A collision reports estimates he was travelling at between 108-112mph."
He added that McAlpine's partner now needs a crutch to walk short distances and he needed surgery and was in hospital for several months.
The court also heard he had lost his apprenticeship and was out of work as a result of the collision.
Sheriff Morag Mclaughlin ordered him to carry out 150 hours of unpaid work and to remain at his home on Cromlet Park in Invergordon between 7pm and 7am for seven days a week for six months and at the same times between Monday and Friday for the following two months.