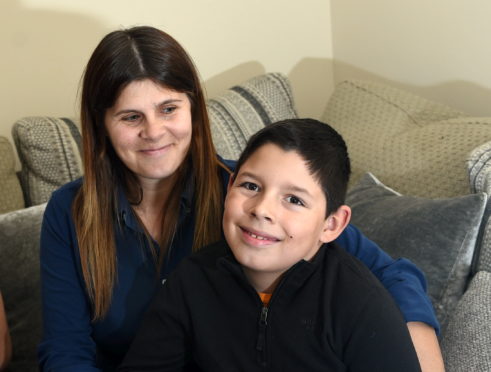 A north-east couple hopes to raise £80,000 so their son can get life-changing surgery.
Elena and Matty Kiraly, from Portlethen, have already raised £19,000 towards sending their son Luca, who has cerebral palsy, to the United States for treatment to help him walk longer distances.
Luca was born prematurely and was diagnosed with the condition when he was just seven months old.
The 10-year-old, who attends Portlethen Primary School, needs to use a wheelchair outside his home and can only walk a short distance with the help of a walking frame.
If successful in raising the funds, Luca will undergo Selective Dorsal Rhizotomy (SDR), which will relieve pain and help build his muscles.
---
>> Keep up to date with the latest news with The P&J newsletter
---
Last year Luca's classmates raised £2,000 last year for an adaptive bike so he could take part in the school's Bikeability course.
Now a classical concert is being held at Portlethen Church this month in aid of the family, at the Jubilee Hall in the village.
Reverend Rodolphe Blanchard-Kowal said he had organised the concert because it was a "great cause" and also hoped it would introduce some people to classical music.
Mrs Kiraly last night thanked everyone who had helped raise money so far, and added: "I have never had to do anything like this, but I would do anything for my children.
"Luca is feeling so much happier and keeps talking about when he will be walking to school."
If successful in raising the funds, Luca will have the surgery at the Washington University School of Medicine in St Louis – the most advanced facility in the world for SDR – and is scheduled for surgery in January 2020.
However, Mrs Kiraly explained that if a cancellation space became available Luca could go earlier "depending on funds".
She added: "It is dangerous – he would have to have three operations over three weeks.
"The rehab is the most important – if we don't do the rehab, it isn't worth the surgery. It will help his muscles to work.
"I am terrified of the surgery, but I am more terrified if we didn't try this for Luca.
"It is huge what they can do for Luca to help him walk with crutches and for him to have just crutches would be amazing."
The Portlethen classical music evening will be held on Friday, February 15 in Portlethen's Jubilee Hall at 7.30pm.
Tickets cost £15 or £10 for concessions, to book, please phone Rodolphe on: 07484 257534 or email: rkowal@churchofscotland.org.uk
To donate, visit www.gofundme.com/go-luca-go