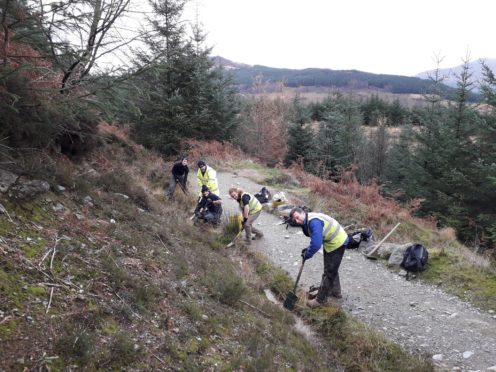 Volunteers from Aberdeen, Aberdeenshire and the Highlands have been praised for playing a vital role in preserving the countryside for future generations.
Miles of mountain paths have been repaired by The Mountains and The People, a flagship project run by conservation charity Outdoor Access Trust for Scotland.
The five-year project has attracted volunteers from all over the country with 50 signing up from Aberdeen city and shire alone, with the same number coming forward from the Highlands and Islands.
Now in its fourth year, the initiative was launched with the aim of repairing and conserving upland mountain paths within Scotland's two national parks – the Cairngorms, and Loch Lomond and The Trossachs.
To date, the venture has improved 258,000 square-metres of habitat, conserved 86,000 metres of paths, and restored scenic landscapes for the future.
The target of repairing 80 miles of paths which was set at the start of the campaign, and roughly equates to the distance between Aberdeen and Inverness, would not have been attainable without the efforts of local volunteers.
Project manager Tom Wallace said: "All the work carried out is crucial in repairing damage to the fragile upland landscapes, and volunteers have helped to make a huge difference on several projects.
"Our teams have helped with the preservation of some of Scotland's most famous trails, including nearby Loch Muick – a place that's important to many who live in Aberdeen and Aberdeenshire."
The project has a number of volunteering days penned in for 2019, with half a dozen groups already signed up to complete conservation work in the hills for what is proving to be a productive year.