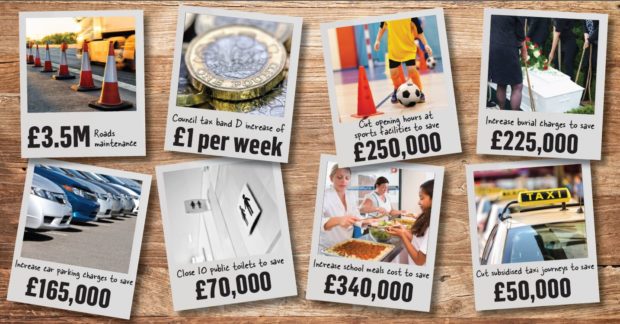 A £5 million roads repair "holiday" is one of a raft of controversial cuts being proposed by opposition politicians to balance a north-east council's books.
Last week Aberdeenshire Council revealed it was just over £22 million in the red with cuts to services over the next year inevitable, including up to 150 jobs that could be scrapped.
Both the administration and SNP-Labour opposition have said they have considered all options for making savings but have yet to be drawn on what these are ahead of Thursday's budget meeting.
However the Democratic Independent and Green Group (Digg) has unveiled its plans for the year ahead as it attempts to be as transparent as possible going into the discussions.
Among the areas which would be slashed would be roads repairs, where the group has proposed a "maintenance holiday" to the tune of £5 million – a 17% reduction on the current annual spend.
The group – made up of councillors Martin Ford and Paul Johnston – has defended this move by pointing to the national road condition index, which places the council as the third best out of all 32 councils in Scotland.
Other savings which have been proposed include increasing school meals costs to save £340,000, cutting opening hours at sports facilities to save £250,000, increasing burial charges to save £225,000 and slashing the number of subsidised taxi journeys to save £50,000.
Under the proposals, council tax band D would be increased by £1 per week which would add another £5.78 million to the authority's coffers.
The group has defended its plans as the only way to save money while protecting more vital areas – as the councillors have pledged there would be no cuts to bus services, no reduction in teacher/pupil support assistants and school staff and no increase in music tuition fees.
Mr Ford said: "The current local government funding system is bust.
"It is no longer possible to maintain all the important services the council is supposed to provide.
---
---
"Councils all over Scotland will be setting budgets this week with cuts in service after service – here, there and everywhere else. This cannot go on.
"The Digg proposal for Aberdeenshire is to make the biggest saving by allowing the council's roads to drop to the standard found in other places.
"Of course, we would much rather not be doing this, but the council does not have the funds needed to continue as we are – so something has to give.
"A partial maintenance holiday for the road network is reversible, it can be put right, whereas an education cut that affects a young person's schooling can never be made good.
"So the proposal we are putting forward is a less damaging way of making the saving we have to make, the least bad option."
Aberdeenshire Council will meet to set its budget tomorrow.
Calculated savings 
A report published last week calculated savings which would require 150 jobs to be scrapped.
Both the administration and the largest opposition group have already committed to raise council tax by 3% and it could be raised a further 1.79% in line with the Scottish Government's threshold, which sources say could generate around £2.3 million for the local authority.
The council has a revenue budget for the next year which amounts to £565 million, with the local government settlement sitting at £422 million, putting it into the bottom three lowest-funded authorities.
Council leader Jim Gifford stressed that compulsory redundancies would be a last resort and that although voluntary losses would also be an option, they would only be considered after "vacancy management".
This might entail not replacing staff who leave, transferring people to other departments and tactics such as reducing overtime.
However Mr Gifford's opposite number, Richard Thomson, ruled out redundancies completely and said it was a "red line" for his group.
He  also pledged to cap any council tax increase at 3%, despite praising the government's decision to lift the ceiling for authorities.
This financial year the council is looking at a £4 million overspend and is striving to reduce that before the end of next month.
The cost has been pinned on factors outwith the council's control, such as out of-authority placements for people who require specialist care where there has been a "significant overspend".