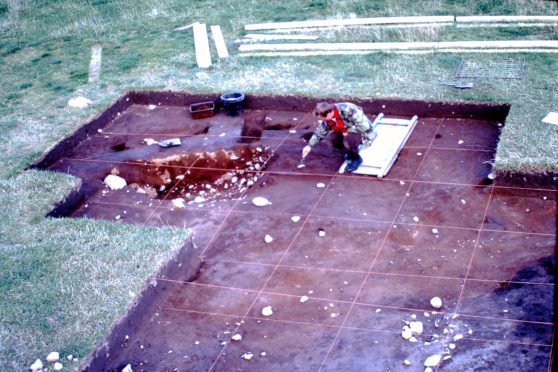 Archaeologists will return to a site in Crathes this weekend to search for further evidence of Deeside's ancient settlers.
The field at Nethermills Farm, was last visited in the 1970s – when a haul of significant objects was found – some dated to around 12,000 years old.
Now it is hoped new advances in archaeology technology will help find even more evidence – new excavation methods and improved radio-carbon dating could accurately date some items to within a few years.
Stone tools together with the remains of pits and post-holes on the site indicated activity by groups of nomadic hunter-gatherers around 7,000 years ago.
Archaeologist Ali Cameron will team up with students from Aberdeen University to re-visit the site this weekend.
She said: "It's really exciting – we think it is the biggest scatter of Mesolithic flint in Britain.
"The flint would have come from the Peterhead area and the settlers would have brought it with them to turn into tools.
"We are hoping to find lots of organic remains, such as charcoal or hazelnut shells, which we could then send to get carbon-dated – the more hazelnut shells we find for example, the closer they can pinpoint the date, due to their growth cycle.
"We know the site was also visited by early farming communities and, excitingly, some finds pushed the antiquity of the area back to around 12,000 years ago, right at the end of the last Ice Age.
"When the ice melted, animals would have moved back in; and the people would have soon followed.
"They would have gathered thousands of nuts as a source of protein, storing them and discarding the shells – it must have taken hours – the larger protein would have come from either fish or animals they hunted."
The 60-strong team will dig a series of exploratory test pits across the 988-acre field in order to assess potential.
Ms Cameron will be joined by Gordon Noble, from Aberdeen University, stone tool specialist Ann Clarke, and Mesolithic specialist Caroline Wickham-Jones.
The work is funded by Historic Environment Scotland, Aberdeen University, and Aberdeenshire Council Archaeology Service.
Members of the public are welcome to visit the site, where team members can offer site tours. They will be at the site on Nether Mills Farm, near to the Durris Bridge at Crathes between 9am and 4pm from today until Monday.