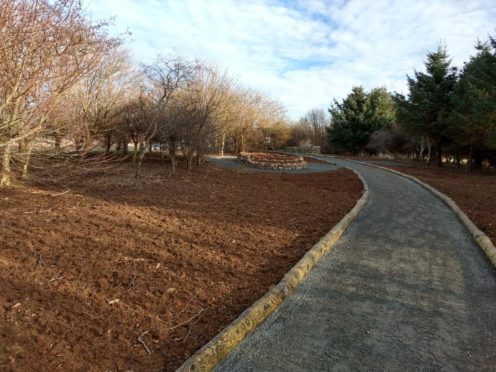 A community sensory garden that has been years in the planning is finally nearing fruition.
New funding has given the Belhelvie Community Trust a boost to build the project at the Magnificent 7s Woods in Balmedie.
Having raised £25,000 from landfill tax, the first phase of the development – levelling the ground and planting grass seed – will be completed by the end of the month.
Secretary of Belhelvie Community Trust, Rosie Nicol, said: "We had thought about the idea for a while but we just didn't have the resources.
"The idea was to have a garden for all abilities and disabilities to enjoy.
---
>> Keep up to date with the latest news with The P&J newsletter
---
"For example, we're planting features for the visually impaired, things which feel or smell different, and combining this with the existing woodland."
The area has always been community woodland, however the land has not been maintained since the trees were planted in 1990.
With phase one now underway, Mrs Nicol said it was hoped that children would be playing there as soon as the summer.
"I've already had kids from one of the local nurseries up there to plant seeds," she said.
"It's a development in progress and we're starting slowly, but who knows where it will lead.
"We weren't sure how well the Sand Bothy would do and that's just taken off.
"It's been years in the planning but now with the first batch of funding we can start going places.
"We are applying for more funding for phase two later in the year."
Additional funding would pave the way for new paths to be created and drystone walls replaced.
The organisers also hope to secure enough cash to build raise beds.
It's hoped new volunteers will come forward to give them a helping hand.
Mrs Nicol added: "Once the group has worked on the structure of the garden it will be up to volunteers to keep the it going.
"We are looking for volunteers of all ages and abilities.
"The more people you can get the more you can do, from litter picking to building walls.
"We are hoping for links with schools – we already have links with sheltered housing and nurseries."
Anyone interested in getting involved with the project can contact the Belhelvie Community Trust organisers on Facebook.