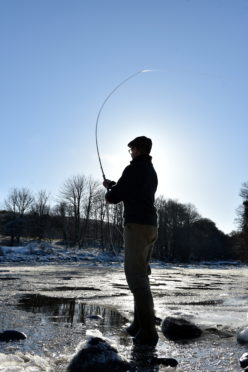 River Dee bosses have expressed "deep concern" over a "dramatic decline" in young salmon making their migration to the sea.
The River Dee Trust has published its findings of the 2018 smolt tagging and tracking research which they say has shown further "huge losses" of young fish, trying to make their way to the sea.
A growing number of invasive predatory birds have been blamed and concerns have been raised about the £30million harbour development in Aberdeen.
As part of the research, 100 smolts were surgically tagged and monitored as they made their way down the river and to the sea.
---
>> Keep up to date with the latest news with The P&J newsletter
---
But 48% did not complete their migration and a total of 28% were lost in the harbour alone with the dredging works put down as a possible reason in the report.
The harbour board has previously said the link was "improbable and purely speculative."
However, last month it was reported that young salmon stocks in the upper River Dee were at their highest since Storm Frank wreaked havoc across the north-east four years ago.
The River Dee Trust's 2018 survey of juvenile fish in the higher reaches of the river and its tributaries west of Ballater has shown a "marked increase" on the previous year.
Floods from Storm Frank destroyed riverbanks and caused millions of pounds of damage up and down Deeside in 2016.
River director Dr Lorraine Hawkins said: "We are already deeply concerned about the dramatic declines of one of Scotland's most iconic species.
"I believe our research could support other rivers in determining the nature of similar losses of young salmon.
"It is crucial that the conservation of wild salmon receives the support it deserves from government and its agencies.
"Salmon are a precious resource and the ongoing decline poses a very real threat to  rural jobs."