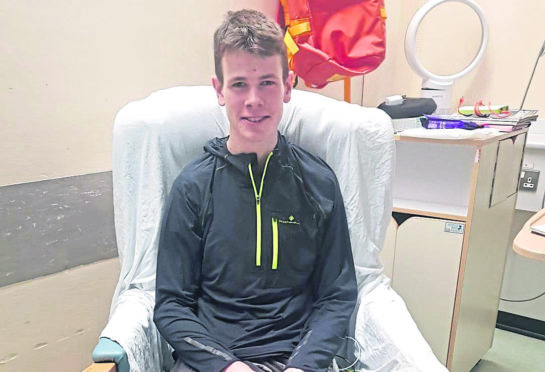 A fundraising drive has been launched to raise money for defibrillators after the kit saved a teenage runner in the Mearns.
Apprentice mechanic Stuart Campbell collapsed while out running with the St Cyrus Solos a month ago after an undiagnosed heart condition caused him to go into cardiac arrest.
But through luck a private defibrillator was on hand, and along with CPR saved the young man's life.
He was transferred to hospital and put in an induced coma for five days while medics operated on him.
But now Mr Campbell is back at work, and his running group has decided to raise £2,000 to install one of the machines in the village shop for use by the public 24 hours a day.
The group has applied for a British Heart Foundation grant but still need to contribute £600 for the machine and another £500 for a suitable box and then the installation costs.
Last night Mr Campbell's mother Alison said her son had an undiagnosed heart condition which made his hobby a "ticking time bomb".
She said: "He has always been a keen runner and took part in competitions even representing Scotland.
"So it as pretty traumatic for all the family when this happened. He was transferred to Ninewells and then Edinburgh where he was put in an induced coma.
"They found an undiagnosed heart problem which they have treated now so he is completely fine. It makes you wonder what would have happened had the defibrillator not been at hand.
"He was a ticking time bomb really.
"You can never have enough defibrillators really and it is so important to have them nearby."
To donate, visit Justgiving.com and search for St Cyrus Solos.