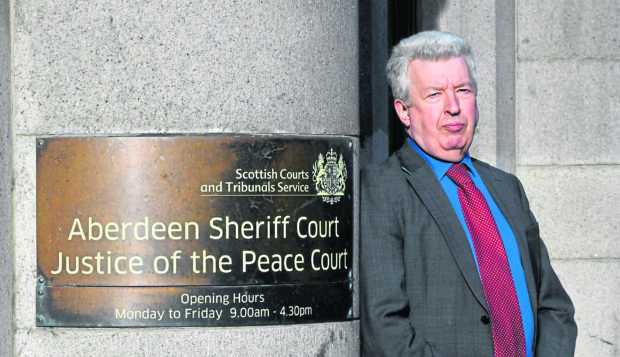 Politicians have hit out at "alarming" figures revealing that almost 500 knives and other blades have been confiscated from people entering north and north-east courts over the past three years.
Official figures from the Scottish Court and Tribunal Service (SCTS) show a total of 462 knives and other "pointed" potential weapons were found by security staff at buildings in Aberdeen, Elgin, Inverness and Peterhead.
Syringes, drugs, alcohol – and even tools – were recovered by teams manning the entrances to the region's courts.
In Aberdeen a total of 234 knives were seized during 2016, 2017 and 2018. This compares to 32 in Inverness, seven in Elgin and four in Peterhead.
There were 143 bladed items confiscated from the court in the Granite City, 24 in Inverness, 10 in Peterhead and four in Elgin.
Politicians branded the knife figures "alarming" and called for "robust" measures to be used as a deterrent.
North-east Conservative MSP and shadow justice secretary Liam Kerr said: "Many people will struggle to comprehend why anyone would try to enter a court room with a knife.
"These alarming figures suggest that carrying a weapon is an everyday occurrence for many people.
"The only positive to take from this is that the court security systems and staff are clearly doing their job.
"But we should be concerned at just how many items are seized. Those caught should be dealt with robustly to deter others."
---
>> Keep up to date with the latest news with The P&J newsletter
---
Security teams are used at courts across the country to prevent potentially dangerous items being taken inside the buildings.
Busier complexes, including Aberdeen, have staff based there permanently where metal-detecting archways are at the entrances and handheld detecting wands are used by staff to scan people attending.
At smaller courts the mobile security presence attends on a rotational basis.
Yesterday the SCTS said some items confiscated include work tools and household items which people take to cases but are deemed inappropriate for courtrooms.
Labour's Lewis Macdonald stressed that it was important to highlight the risks of carrying dangerous weapons.
He said: "One knife taken into a court is one too many, and these figures of dozens of blades confiscated every year are truly alarming.
"Sometimes young men believe carrying a knife makes them safer, but the opposite is true. We need to get the message across that people carrying blades are putting themselves at risk as well as other people."
In Moray, MSP Richard Lochhead warned officials not to be complacent, despite the lower number of seizures in the Elgin building.
He said it was "essential" that victims of crime felt safe when turning up to give evidence at court.
Mr Lochhead said: "While the numbers of knives confiscated by security staff at Elgin Sheriff Court is very low, it's vital that there's no complacency and that security staff continue to be vigilant and confiscate any weapons or dangerous items they come across."
Last night a spokesman for the Scottish Court and Tribunal Service said: "The SCTS takes the safety of all court users very seriously. We work closely with partners, including the police, to take all reasonable precautions against weapons, potential weapons, or other prohibited items being introduced into court buildings.
"Any item which is considered to be a potential risk to public safety could be confiscated on entering a court building.
"The discovery of any weapon or potential weapon by staff is immediately reported to the police."
---
What else has been confiscated from courts?
Other items confiscated from courts across the north included alcohol, bladed or pointed articles not classified as knives, drugs, syringes or needles and tools.
Aberdeen was the worst for weapons, while Inverness Sheriff Court had the highest volume of alcohol seized.
Court attendees attempted to smuggle 89 items of alcohol into Highland capital's court over the past three years, with Inverness also ranking high in the confiscated tools category, with 11 seized by court staff during the same period.
An alarming 222 syringes or needles were confiscated at Aberdeen Sheriff Court, more than 10 times of those discovered in Inverness. A total of 29 similar items discovered at Peterhead Sheriff Court.
There were 143 bladed or pointed articles not classified as knives seized at Aberdeen Sheriff Court over the past three years, with 40 drug seizures.
Peterhead Sheriff Court ranked in second on drugs seizures with three items discovered, with no drugs seized at either Elgin Sheriff Court or Inverness Sheriff Court.
There were also 1,956 miscellaneous items seized at Aberdeen Sheriff Court, compared to 54 at Inverness, 14 at Peterhead and six in Elgin.