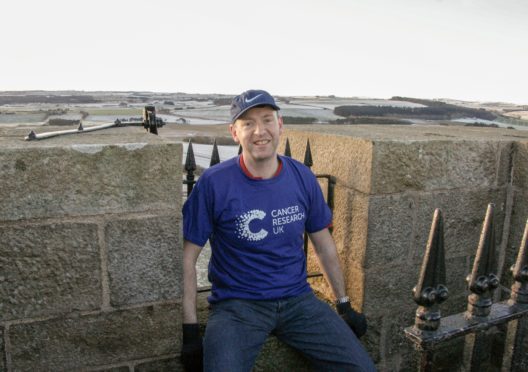 An intrepid north-east man is preparing to climb one of the world's biggest mountains in memory of his father.
Having lost Dad Howard in March last year, Simon Birkby from Ellon will pay tribute by climbing Mount Kilimanjaro, Africa's highest peak.
As a youngster, Simon used to go hillwalking with his Dad in their native Lake District, and it's those memories of time spent in the hills with his father which he hopes will propel him 19,341 feet to the top of Africa – over four times the height of Ben Nevis.
Having witnessed his father's fight against cancer during the final 14 months of his life, Simon is hoping to raise as much money as possible for Cancer Research UK.
"There was nothing any of us could do for my Dad, and we can only be grateful that this didn't impact on his life until later, when he had at least seen his two children grow up, marry, and had met all four grandchildren," said Simon.
"We are also grateful for all of the support that we received from family and friends, and also from the supporting services.
"So I have decided to try and give something back while showing my respect for my Dad at the same time.
"Sometimes you just have to step out of your comfort zone to prove that there is more to life."
Mr Birkby said his Dad had loved hill walking, particularly in the Lake District near his home town of Barrow-in-Furness.
He added: "Scrambling across Striding Edge to Helvellyn with him when I was far from the size I am now is a memory I will always have.
"Although I was a bit scared then, I still wanted him to be proud, and the same is still true.
"I did tell him what I was thinking of doing before we had to say goodbye and he loved the idea, his only regret being that he couldn't come with me, so there's no going back now.
"I'm well aware that this isn't going to be a Sunday morning stroll, it's going to be tough and many people have to give up, but I'm determined to give it a go."
Simon will be undertaking the challenge of a lifetime in October 2020, cheered on by wife Beverley and kids Charlotte, 4 and James, 2.