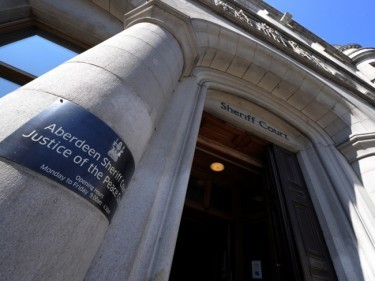 A young man who plundered his mum's jewellery to sell-off online was caught out when she intercepted messages from prospective buyers.
Time and again Cameron Brownie dipped into her jewellery box to pilfer items including a gold necklace and diamond-studded rings worth a total of £19,000.
He then attempted to market them on Facebook for a fraction of their worth and successfully sold one item, a sapphire and diamond ring worth around £7,000, for a matter of hundreds.
Yesterday, Aberdeen Sheriff Court heard the 23-year-old's parents had become suspicious when he offered to take out the bins – only to be spotted in a shady conversation with a stranger.
---
>> Keep up to date with the latest news with The P&J newsletter
---
His mum and dad then received phone calls and notifications on an iPad relating to items.
Brownie was challenged and the truth came out, though it emerged his dad was eventually forced to pay £400 to recover the £7,000 ring.
The court was told that at around 6pm on July 10 last year, the Brownie was speaking to his mother at their home near Inverurie.
Depute fiscal Lynzi Souter said: "He offered to take the bins out to the bottom of the lane.
"Later his mother saw the accused at the bottom end of the garden, appearing to be meeting with someone.
"She became suspicious of this then got a phone call saying Brownie had been receiving messages via Facebook on his iPad, making reference to various items of jewellery."
Concerned about what was going on, the depute fiscal said his mother had rushed to her bedroom to check her jewellery box.
She discovered that her £10,000 diamond solitaire ring was missing and swiftly questioned her son as to its whereabouts.
Mrs Souter said: "He presented the ring from his trouser pocket to his mother but a subsequent check of the jewellery box revealed a gold necklace was now missing.
"It was valued at £1,000."
The worried mum went back to her son, only to be told this time that it was "long gone".
Later that evening she spotted a Facebook message on an iPad which read: "Tell your mum she can have her ring back for £400."
She went back to check her jewellery box for a third time and realised that another piece had disappeared.
This time it was a ring sporting sapphires and diamonds, valued at £7,000.
The incident then descended into a full family affair, when the boy's father replied to the diamond ring's new owner, who was offering to return it for a fee.
Mrs Souter said: "The father arranged to meet this gentleman, who returned it for £400."
Three pieces of jewellery were eventually traced and returned.
Brownie's case was heard in his absence at Aberdeen Sheriff Court yesterday, with his solicitor entering a guilty plea on his behalf.
Sheriff Ian Cruickshank deferred sentence until later this month to allow for a social work report to be drawn up and for the 23-year-old, of Sauchen, to appear in the dock in person.