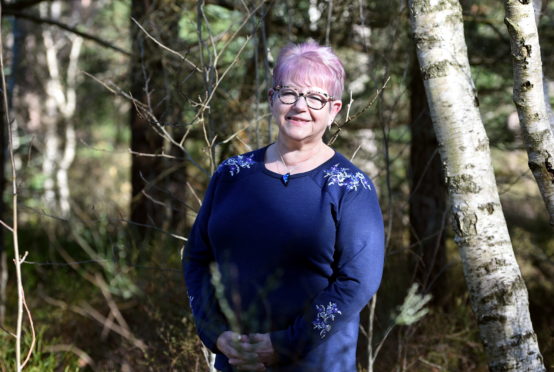 Gaie Tough, from Aboyne, will be accompanying Mhairi Annendale down the catwalk in May.
The 68-year-old is tackling the challenge with a "positive attitude", in the same way she took on her cancer diagnosis back in 2013.
After choking on a piece of pear, she was referred by her doctor to have an endoscopy, after which it was found she had Oesophageal cancer.
Playing with young daughter led to chance cancer discovery for north-east mum
Her husband, Bill, was working offshore – and a special helicopter was charted to ensure he could return to his wife and support her during her treatment.
Ms Tough was sadly no stranger to cancer, having been her mother's "chemo buddy" throughout her treatment.
She said: "I became acquainted with Friends of Anchor for the first time when my mother was receiving palliative chemotherapy after developing lung cancer.
"After my experiences with my mum and knowledge about the quality of staff at the charity, chemotherapy did not fear me.
"However, my treatment was slightly delayed. The day I was due to start my brother died of cancer."
After dealing with the bereavement, Ms Tough soon began newly arranged 12-hour chemotherapy shifts.
She said: "Friends of Anchor treated me like a queen the entire time – they made me feel human, they made me feel comfortable.
"I couldn't have asked for better support."
After her chemotherapy, she underwent surgery to remove a section of her oesophagus that contained a cancerous tumour, and nearby lymph nodes.
A small portion of her stomach was also removed in the process.
Ms Tough said she was "always optimistic", despite the gruelling nature of the treatment.
She said: "I called the tumour my worm from the very beginning.
"I would say – let's get that worm out.
"And when surgery came along, I was ready.
"It's the second largest procedure outside open heart surgery, and many people sadly don't live through it."
The tumour was successful removed, and two years later Ms Tough ran a successful fundraiser for Friends of Anchor at the Blue Lamp.
But since then, she has always thought about going one step further.
She said: "I always read about Courage on the Catwalk in the Press and Journal, and thought I'd love to do it.
"Then I finally decided to do it, and give back to Friends of Anchor.
"Things have been going great so far, in our last rehearsal everything came together beautifully.
"I was lucky that my treatment was not too bad but some of these ladies went through so much, or still are – they are so inspirational.
"The Anchor Unit helped to save my life and gave me hope – I hope I can help give something back so that other people can benefit."