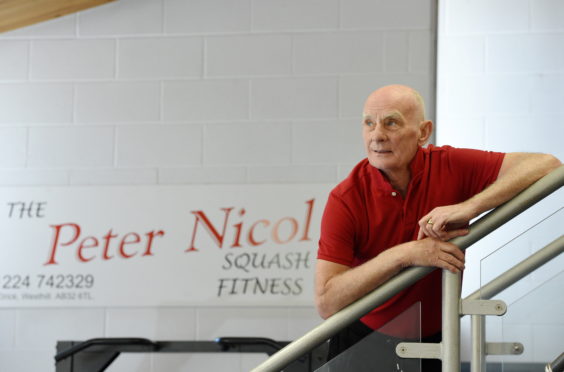 A veteran squash coach and his world champion son are selling their north-east training centre after 20 years of inspiring youngsters to pick up a racket.
Pat and Peter Nicol established the training centre in Westhill two decades ago while the latter was setting the squash world alight.
Hundreds of youngsters played on their courts throughout the years, inspired by the former world number one's feats.
Many of them went onto represent not just their region but also Scotland on the European stage.
However now Mr Nicol sen, 78, has decided to hang up his racket out to spend more time with his family, and also to visit Manhattan, New York, where his son is establishing the first-ever community squash centre.
And he will also be closely watching the next generation of sporting stars in the family, his grandsons Ethan and Sebastian Ross, both Aberdeen FC players.
Ethan will be potentially in the squad for Sunday's Scottish Cup semi final against Celtic, while Sebastian is on loan at Stenhousemuir.
Mr Nicol sen also admitted the oil downturn has an impact on the courts, with many companies scrapping corporate memberships.
The former PE teacher, who lives in Inverurie, said: "I retired from teaching and about two years later we took over the squash club. It had been built by Stewart Milne when he built the houses nearby, but was on the verge of closing.
"I have been involved in sport all my life and was a PE teacher, it was something I had always wanted to do and I've been doing it ever since."
Mr Nicol sen played Highland League for a number of sides including the Inverurie Loco Works, who he also managed.
He also helped to build the social club, which helped to generate much needed funds to keep the club going at the time.
It was when a new squash club opened in the town that both his son and daughter Julie discovered their talent.
Their father also picked up a racket for the first time, at age 42, and became his children's biggest supporter.
Eventually, after retiring, they took over the Westhill facility and at its height there were 30-40 children taking part in national tournaments, and competing for Scotland.
For years, Mr Nicol sen split his time between training the next generation of squash stars and watching his son become world champion and four-time Commonwealth Games gold medallist.
"Obviously being able to be involved with my son's career was a highlight, and being able to set this place up with him too," he said.
"But also being involved with these youngsters, sometimes when Scotland was going to play in the European championships the whole team would be made up of players from this club."
'He's done so much for the sport'
Peter Nicol said there was no doubt his dad deserved to put his feet up after all he had done for sports in the north-east.
However he said he doubted he would take it easy and said he fully expected him to be taking coaching sessions when he visited the Big Apple.
Speaking from Manhattan, Mr Nicol jun said: "He has been doing this for a long time and before that he was a school teacher.
"He brought through many wonderful junior players who grew up to become great adult squash players.
"My dad started playing at the same time as me and was not the best player in the world but he was a great coach.
"Having him in my corner was huge, not just because he was my dad and he would do anything for me – which he did, both him and my mum helped me financially at the start of my career when I didn't have much, and neither did they.
"But also his tactical and technical advice. Obviously with us being father and son there were times it wasn't always easy but he's always been with me, and I look forward to having him over here and seeing him coaching some of the kids we have here.
With one centre already open in Rhode Island, Mr Nicol jun is just months away from opening a second.
His aim is to make squash less of an elitist sport, and help it become accessible to everyone to allow youngsters to benefit, much like the now defunct Garioch squash club did for him, which his dad played a major part in promoting.
Mr Nicol jun added: "He's done so much for sport and the wider community  in the north-east."