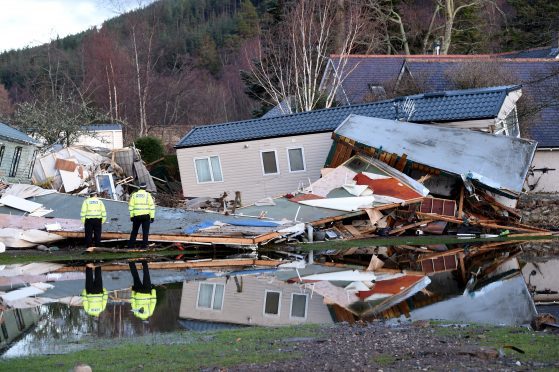 A group set up in the wake of the devastating Ballater floods has called for a re-think on proposals designed to safeguard the village for future generations.
Aberdeenshire Council has published its plan to protect the picturesque community from a repeat of the 2016 deluge, which destroyed dozens of homes and businesses.
The authority's preferred option would mean relocating the caravan park, police and fire stations and council depot.
It would also require the erection of flood defences that are almost 14 feet high in some places.
But far from protecting the village, former members of the Ballatter Flood Group – comprised up of local people with technical expertise and set up to review the circumstances that led to the flood – fear the proposals could ultimately harm the area.
The now defunct group has questioned the council's method of choosing an option, when there has yet to be an official decision on what exactly led to the 2016 floods.
More than 300 homes and 60 businesses were devastated in the village, apparently when a bund at Ballater Golf Club burst, swamping the community in water four feet deep.
In the wake of the devastation, the authority appointed RPS Consulting Services to carry out a study with the aim of managing flood risk in the future.
In a letter addressed to Aberdeenshire Council, the group's former members Tony Cox and Douglas Johnston have voiced their opposition to the plans that have followed.
The flood group claim the proposal fails to address the vulnerability of the Red Braes embankment, which is where the banks burst.
Their letter also claims that under the preferred option, flood water would be diverted through and "throttle" the Royal Bridge, which could have a damaging effect on the stone structure.
And the pair have also raised concerns about the long-term impact on tourism if the caravan park is relocated from its riverside setting and of building flood defence walls on the golf course.
Tony Cox, who was the coordinator of the group, said: "What we have been saying from the beginning is that the first thing you do in any investigation is describe what happened and why it happened.
"We feel the report is remiss in not modelling exactly what happened at the time of the flood."