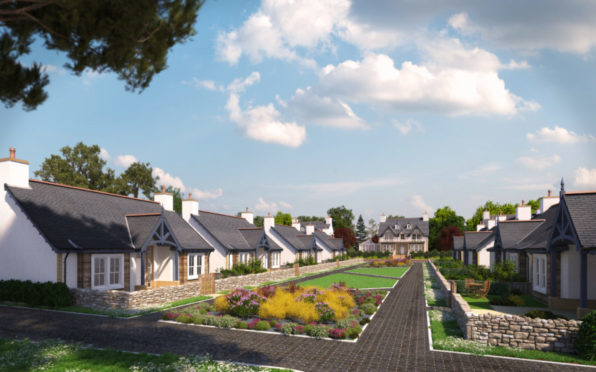 A fresh report on Trump International's Menie Estate housing plans claims the development is on track to reap the original economic awards promised in 2008.
It comes as Aberdeenshire Council confirmed it had pushed back making a decision on the housing scheme for the Menie resort, near Balmedie, until later this year.
The planning application for 550 homes near Balmedie was due to be discussed by full council next week but the authority has said it has received additional information which it has to consider.
The development was part of the wider approved blueprint when the golf course was given consent in 2008.
But since then, the Trump Organisation has been accused of breaking its promises by not building a second course and hotel, and instead moving forward with a latter stage.
The developer denies it has reneged, saying it changed the phasing due to "significant" economic unknowns.
But despite the changes, a report by planning experts 4 Consulting claims the region will gain the same benefit as originally promised.
The report states: "The development remains on track to secure the investment set out in 2008 and will play a significant role in helping the region to host major events in the future.
"The masterplan is still on track to secure the original investment. In terms of construction impacts alone, building the next phase of development will support nearly 2,000 full-time equivalent jobs across Aberdeen and Aberdeenshire and stimulate nearly £250 million of output across the region.
"Over the longer term, the proposed development will add 268 jobs and £29million of
output to the Scottish economy. Most of this will be captured within Aberdeen and
Aberdeenshire where an additional 244 jobs and £25million of output will be sustained."
A number of council departments, as well as the Scottish Environmental Protection Agency (Sepa), had previously said they were unable to back the plans because of unresolved issues.
However planning officers recommended the scheme be approved, because of its potential "considerable" economic impact.
The proposals include plans for community facilities, shops, offices, food and drink provision, landscaping and supporting infrastructure.
An updated report will now be brought back to the Formartine area committee for comment before determination at a full meeting of Aberdeenshire Council at a later date.
Stephen Archer, director of infrastructure services said: "This is being dealt with as a major application and as such it is essential that elected members have as much information as possible to allow them to make a considered decision.
"With this additional detail being presented to us by the applicant it is only right that it is given equal consideration to the information we have been working with to date."
A spokeswoman from the Trump organisation said: "The statutory consultees requested further information which has been provided and we look forward to the determination hearing, which we believe will take place on June 27, 2019."