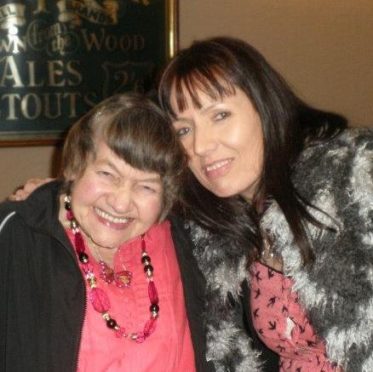 An Aberdeenshire woman will complete a daring high-altitude challenge to fulfil the final promise she made her mother – and raise money to fight dementia.
Karen Stewart will soar through the sky on the wing of an aircraft in September to honour her late mother, Irene, who died in July 2016 after suffering from dementia.
The Tarland woman relived the heartbreaking moment she learned that her mum was nearing the end, adding that she "still can't believe" she has gone.
The 49-year-old said: "I was watching Hollyoaks on a Sunday afternoon when my brother called and said he thought her her time had come. She died a week later.
"I was heartbroken – even though she'd had dementia for a while, I still thought we had more time.
"But when I promised her I would do this wing-walk for her she smiled, and I like to think she understood."
For her charity wing-walk – named Pigs and People Will Fly, in reference to the marketing firm she runs – Ms Stewart has set a fundraising target of £5,000.
Money raised will go towards Aberdeen FC Community Trust's dementia-friendly programme, which allows people with the debilitating condition to relive some of their favourite memories of the Dons.
Cash will also go towards Deeside Cats Protection, the Forget Me Not Dementia Club in Banchory, Halfpenny Farm Animal Sanctuary and the Scottish SPCA.
Ms Stewart added: "I'm terrified for the wing-walk, but it was the last promise I made to mum – and once the first sponsorship came in, there was no going back."
"Besides, when me and Little Piggy are up on the plane in the sky, in a way, we'll be closer to mum than we have been in a long time."
She is inviting anyone interested to support, or even join her and friend Sarah Macleod on the wingwalk, at her official donation page.