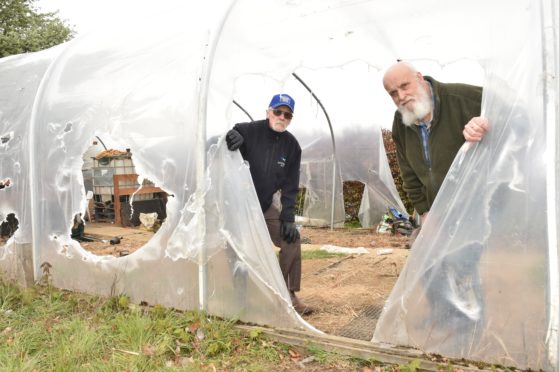 An Aberdeenshire men's shed group has been forced to look for a new home for its gardeners, after its horticultural area was destroyed by vandals for the umpteenth time in the last year.
The Inverurie and District Men's Shed organisation, based at Harlaw Way in Inverurie, has been targeted by vandals on as many as eight occasions since last spring.
The group's polytunnel, used by green-fingered members of the group to hone their skills cultivating plants, was ripped apart early last year, ruining their ambitions for the growing season.
And now, their hopes for this year's garden have also been uprooted after vandals tore massive holes out of it at some point last week.
The site has been rendered unusable and, yesterday, vodka, alcopop and beer bottles could be seen strewn around the area, both inside and outside the tunnel.
Members 'demoralised' as Aberdeenshire men's shed targeted by vandals again
Glass was also smashed around the community garden, and evidence of people burning plants was visible at the site.
Leith Robertson, a member of the men's shed, said the group is so sick of the vandalism it is now looking for a new location for the polytunnel and gardening facilities.
He revealed that efforts had been made to deter vandalism through a fake CCTV camera – but it was stolen.
Mr Robertson said: "This has been an ongoing problem for the past nine months or so.
"The tunnel was rendered unusable quite some time ago, but last week's additional damage seems to indicate it's probably being used semi-regularly as a place for teenagers to meet up.
"They've also wrecked our small greenhouse by breaking all the glass, and they've attacked our summer house too.
North-east facility 'devastated' after being vandalised again just weeks after repairs
"We lost last year's growing season, we're now losing this one, so we're hopeful that we'll be able to move from Harlaw Way to elsewhere in the near future."
The Inverurie and District Men's Shed continues its activities in the workshop and cabin at Unit 19 on Harlaw Way ,every Monday and Thursday from 10am to 4pm.
It currently has around 30 active members, and is always seeking new participants to join the group.