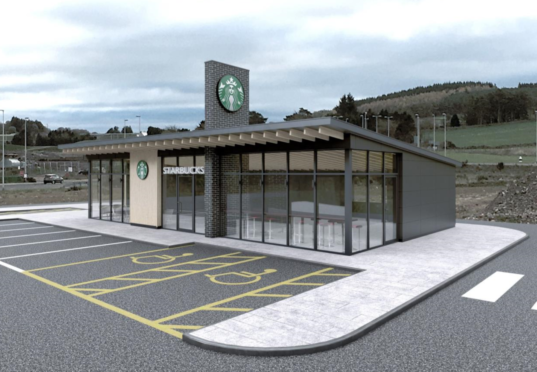 Councillors have been urged to back controversial plans for a Starbucks drive-thru in after they were amended to remove a large advertising feature that would have been erected on its roof.
Proposals for the coffee shop on the Arnhall Business Park at Westhill were put before Aberdeenshire Council's Garioch Area Committee last month, but a final decision was deferred over concerns about the design of the building.
The developers have now proposed a raft of changes to address the points of contention raised by committee members.
They include the removal of a large, brick "roof fin" displaying a big green Starbucks Coffee brand logo, the addition of "simplified" oak cladding to all of the elevations in blonde and dark stain and the removal of "Kingspan, brick and Accoya cladding".
The site had been on the market for the best part of 13 years, but was acquired by the American coffee giant in September last year.
And planners have recommended once again that councillors vote to approve the proposals, despite 50 objections from those in the local community.
Those opposed to the plans have highlighted a number of concerns, including the potential for over-saturation of similar businesses in Westhill and its proximity to the new Aberdeen FC stadium at Kingsford.
One of the groups to object was Westhill and Elrick Community Council.
In a statement, the organisation said: "There has been no economic assessment by the applicant on the viability and vitality of the existing Westhill shopping centre and there has been no justification by the applicant as to why this type of provision is required, particularly as Westhill has an abundance of fast food outlets.
"It appears to be a speculative application linked to Kingsford Stadium."
The planning report which will be considered by councillors, however, concludes the new changes will help the proposal fit in better with its surroundings.
Its author writes: "The planning service is of the opinion that the design and materials are of a high standard and the amendments generally address the requirements of the committee.
"They are considered to be complementary to the existing built and natural environment."
The revised application will go before the Garioch Area Committee next week.