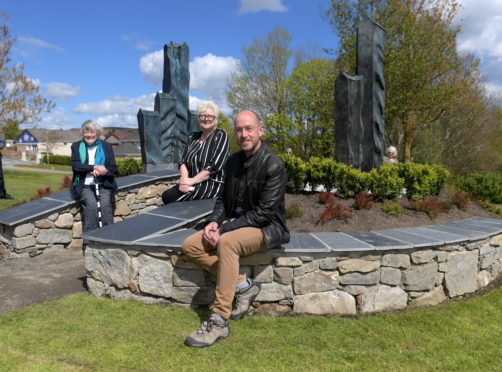 A long-awaited sculpture, commemorating five decades since a community was formed in Westhill, has finally been revealed at the main entrance to the town.
The Gateway to Westhill was designed by Irish sculptor Holger Lonze with help from community leaders, following public brain-storming sessions.
A mysterious huge question mark was placed at the site, opposite Denman Park, two years ago, prompting speculation as to what would take its place.
The new sculpture, commissioned by the Gateway Art project team, led by Kate Lumsden, was created to mark the 50th anniversary of the town, which prior to the 1960s, was mostly farmland.
Last night, she said she was "delighted" with how the new landmark had turned out.
She added: "We really wanted to celebrate the 50 years of Westhill; the sculptures captures beautifully the ideas of growth, the waves of the North Sea and the cottages which were here before."
Housing development began in the town in 1968 and it has significantly grown in size, following the discovery of oil in the North Sea and the subsequent arrival of thousands of people moving into the area for work.
The sculpture was unveiled by Sheila Kelly, 91, a former art teacher who has lived in the area's oldest property – Prospect Cottage on Westhill Road – for more than 60 years.
Mr Lonze constructed the sculpture using bronze and steel sheet to symbolise the area's prehistoric background and celebrate the offshore industry's legacy on the town.
The two-part sculpture makes reference to the long-demolished crofts and cottages along Skene Road, based on photographs supplied to Mr Lonze.
His interpretation board, situated at the sculpture, reads: "The texture of these buildings evoke images of furrows, rolling landscape and waves.
"The latter, together with stainless steel bases, are a reminder of the relevance of the offshore industry for the town.
"The elongated, upright forms resemble standing stones and tree trunks, while the variation in height suggests growth.
"The setting on a circular mound in an East-West orientation is a reminder of the name Westhill and reference to prehistoric enclosures."
The project was initiated by Westhill and Elrick Community Council and co-funded and supported by Aberdeenshire Council, McIntosh Plant Hire and FES Ltd.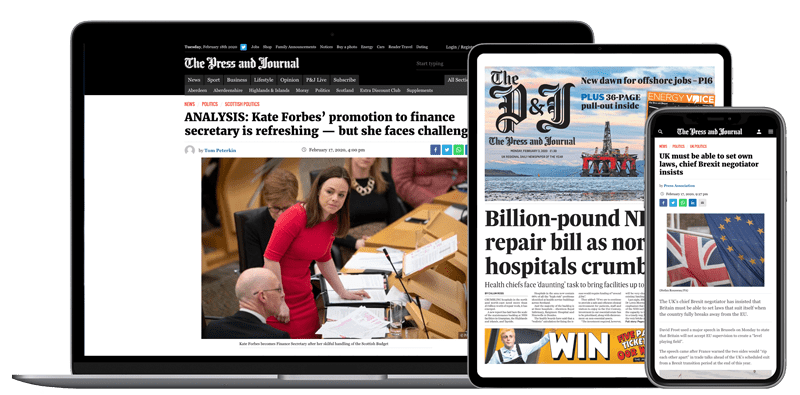 Help support quality local journalism … become a digital subscriber to The Press and Journal
For as little as £5.99 a month you can access all of our content, including Premium articles.
Subscribe