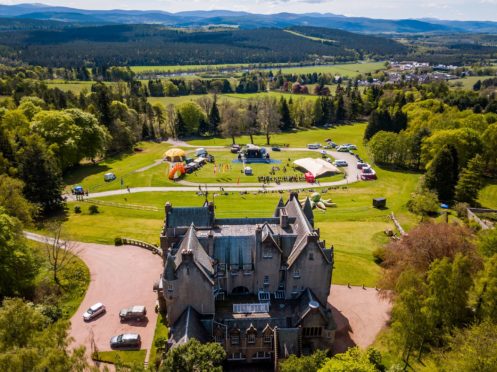 A successful north-east music festival was marred by a series of drug seizures at the weekend.
Over 1,300 electronic music fans gathered at Drum Castle near Banchory on Saturday for the Minival festival.
But while the event was otherwise a huge hit, 24 people were charged with attempting to take illicit substances into the event.
Held in the 13th century castle's grounds, the third Minival festival included acts such as Bicep, Henrik Schwarz and Mafalda.
Police, who used drug detection dogs to prevent illegal drugs from entering the arena, said they were "extremely disappointed" by the number of people caught.
They also praised the event organisers for the precautions taken to prevent illegal activity and anti-social behaviour.
Chief inspector Stewart Drummond said: "It goes without saying that we are extremely disappointed to see so many people being charged in connection with drug offences.
"An incredible amount of time and effort by the event organisers goes into planning events like this so that people can enjoy themselves in the grounds of sites like Drum Castle.
"This preparation is also to ensure that all those who attend can enjoy themselves safely, with a clear warning issued by the organisers from the outset that any illegal or anti-social behaviour would not be tolerated."
He added: "Let me be clear to those people who think that it's okay to attend events and break the law – it is completely unacceptable, it won't be tolerated and you will be charged.
"Officers from across the north-east routinely support events like this to help the organisers involved and ensure there is minimal disturbance to the surrounding community.
"By no means are we there to ruin anyone's fun, however it's crucial that the small minority who choose to potentially ruin events for others do not get away with it."
Managing director of the Minival festival, Ravi Karia, said the event had been a great success.
"Ultimately the people involved were unsuccessful in bringing drugs into the event as they were denied access," he said.
"They were apprehended before they could gain entry.
"We worked very closely with Drum Castle and Police Scotland – whom we have worked with on a number of occasions – to enforce a strict no drugs policy.
"We put in place very strict measures to prevent people taking drugs in to the event."
When asked whether the police's involvement at the festival might have implications for future events, he replied: "No, I don't believe so".
Reports will be sent to the Procurator Fiscal in due course.