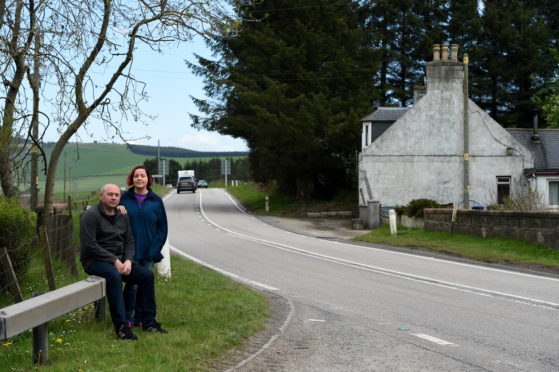 An Aberdeenshire woman has called for drivers to take more care on a north-east road after a car "lost control" and careered into her house this weekend.
Tracy Rettie was "left shaken" after the incident, which took place on Saturday.
Police were called to her home at Bainshole Farm after a vehicle came off the road on the A96, near Glens of Foudland, around 5pm.
Officers were busy attending to the incident when a subsequent car also "lost control," and veered off the side off the road and smashed into the police car.
The car was subsequently "shunted" into Mrs Rattie's home, causing a large bang, damage to the wall and even breaking her Sky cable.
She said: "One policeman jumped in the road to get out of the car, they were shaken and hurt but still had to do their jobs, which they did brilliantly.
"We are lucky everyone is okay."
It is thought both crashes were caused by a diesel spill on the road, but police were unable to confirm this last night.
A police spokesman: "We were called at 4.47pm on Saturday to Bainshole Farm on A96.
"Police were attending to a crash at the corner of the property and while dealing with it, another vehicle lost control on the same bend and collided with the police car, shunting the car into the house it would appear.
"Those involved received minor injuries."
Mrs Rettie said Saturday's crash was the third in as many weeks.
She said: "We have had a lot of crashes on that bend.
"There are slow down signs just as you come up to the bend on the Huntly side.
"But my husband and I agree they make no difference, some people just don't seem to slow down."
This Saturday's crash came just a week after 76-year-old Katrina Smith, from Burghead, died on the A96.
The same week, 29-year-old Shane Drury died after a car and van collided on the same road.
Gwenyth Petrie, councillor for the Huntly, Strathbogie and Howe of Alford ward, echoed the calls for motorists to drive more carefully on the A96.
She said: "It's concerning to hear that there have been yet more crashes on this bed, although I'm relieved to hear that there were no serious injuries to those involved in this instance.
"Whilst I'm not yet aware of the exact cause of the crashes this time, I think it's probably time for Bear Scotland to look again at what further safety measures can be put in place for the corner – both for the protection of road users, and for those living in the house affected."
In Aberdeen, meanwhile, a serious two-vehicle crash left three people trapped within their vehicle.
Police, fire and ambulance were called to the A947, between Dyce and Newmachar, at around 1.50pm on Saturday.
The road was closed while firefighters removed the roof of one car, after it left the road and came to rest in a ditch.
A police spokesman said: "The collision between a silver Saab car and a blue Jeep, happened just outside Dyce.
"One casualty required medical assistance and the road was closed while the occupants of the vehicles were removed."