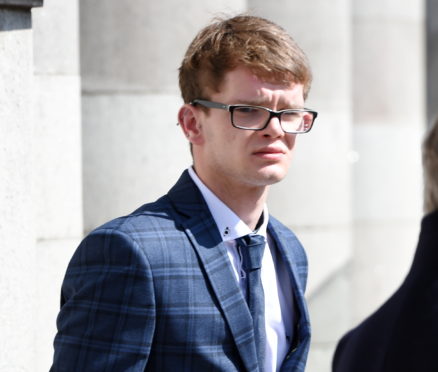 A man who stole £19,000 worth of jewellery from his mother has been spared a prison sentence after a court heard that she forgave him for the theft.
Cameron Brownie, whose address was given as Spring Gardens in Aberdeen, plundered his mum's jewellery box in order to sell the precious items off for a fraction of their true worth.
He was caught out last July when he offered to take out the bins at the family's home near Inverurie, and was then spotted interacting with a stranger who had pulled up in a white car.
Son flogged mum's precious gold rings online – but was caught when she saw his Facebook messages
The 23-year-old admitted to looting the collection when he appeared at Aberdeen Sheriff Court last month, and Brownie returned to the dock yesterday to be sentenced.
His lawyer, Peter Shepherd, explained that his client's mother had since forgiven him, and was also there to support him in the court – despite being the person who reported him to the police.
Sheriff Ian Wallace decided to spare Brownie jail, instead urging him to "address the cause" of his offending during a 12-month period of supervision.
The accused was also ordered to perform 60 hours of unpaid work in the next five months.
Brownie's crimes came to light on July 10, when his mum learned that he had received messages on his iPad making reference to jewellery.
Concerned about what was going on, she went to her bedroom to check her own collection and was horrified to discover that a £10,000 diamond solitaire ring was missing.
Fiscal Christy Ward yesterday told the court that she "confronted the accused, who produced a ring from his trouser pocket".
Ms Ward added: "After a subsequent check of her jewellery box, she found a gold necklace worth £1,000 was now missing."
Brownie told his mother the necklace was "long gone" when she questioned him.
Later that evening, she spotted a Facebook message on an iPad which instructed Brownie to tell her that she "could have her ring back for £400".
She went back to check her jewellery box for a third time and realised that another piece had disappeared.
This time it was a ring sporting sapphires and diamonds, valued at £7,000.
After a lengthy ordeal, which involved Brownie's father eventually buying back the latter ring for £400, all of the jewellery was recovered.