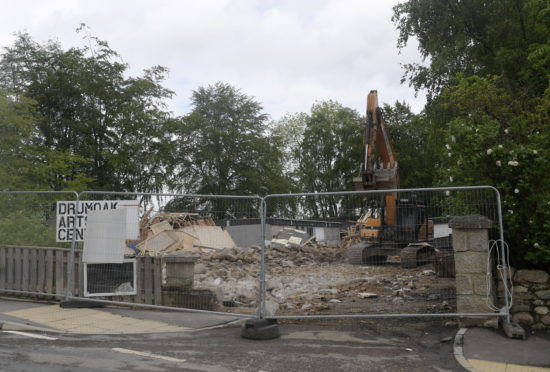 A symbol of a Deeside village's Victorian past will soon be no more as bulldozers remove it from sight.
Drumoak Primary, which dates back to the 1800s, closed its doors for the final time in February 2016.
The Sunnyside Drive building was replaced by a new primary, which is located on James Gregory Road.
Since then Aberdeenshire Council has attempted, unsuccessfully, to sell-off the building, before leasing it to the Aberdeen Green School, a fee-paying independent establishment.
That school has since moved out, however, and now the authority has begun tearing down the building.
Metal fences have been erected around the site. Crews are expected to take around a fortnight to complete the demolition.
The authority has confirmed the land will then be up for sale. It has previously been marketed for residential use with an asking price of £444,000.
Parents had been calling for a replacement for Drumoak for years after decades in which pupils were educated partly in portable cabins on the school site.
The school roll had increased over many years due to the building of hundreds of new homes, forcing the use of "temporary" accommodation.
The new energy-efficient replacement school has space for 145 pupils and 30 nursery children and comes complete with six classrooms, a large sports hall, a library and facilities for the whole community.
While it has prospered, the old school now being demolished has been regularly targeted by vandals in the years since it was closed.
The culprits have broken into school buildings, smashed windows and sprayed explicit graffiti on the walls.
The council shelled out £1,600 to board up the school windows to prevent further damage in 2017.
A spokesman for the council said: "Demolition of the building is currently underway and is likely to be completed within a fortnight."
For more information on the sale, call 01467 539356 or email estatesadmin@aberdeenshire.gov.uk.