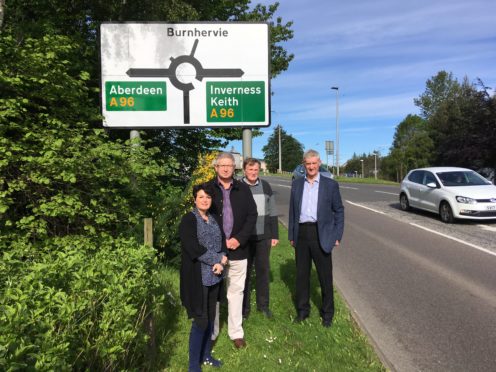 Dualling a major north-east road will have a dramatic impact on the environment, campaigners have argued.
Transport Scotland has opened a second consultation on dualling a 26-mile stretch of the A96 Aberdeen to Inverness road, between Aberdeen and Huntly, having narrowed down the preferred options to ones away from the current road.
A campaign group, whose members no number about 400, has been pushing for transport bosses to dual along the existing route, which it argues would protect homes and the environment.
A96 Action has now claimed it has carried out research which reveals their preferred option would also result in significantly less damage to the environment.
The research – carried out by an environmental expert – appears to show that dualling the existing road would create 100,380 metric tons of carbon emissions, compared to 971,87 and 1,255,254 tons with the government's preferred options.
A spokeswoman for the group said: "Online dualling and a link road to the north around Inverurie would save the environment, dramatically reduce the carbon footprint and lower the costs to the taxpayer.
"The work can also start now, rather than waiting 10 years.
"Transport Scotland needs to re-think this.
"The vast majority of people don't understand why they are not just dualling along the existing road."
Meanwhile a north-east MSP has accused Transport Secretary Michael Matheson of ignoring the campaigners and has urged him to meet with them.
Peter Chapman himself met the group on Friday in Inverurie and plans to meet Mr Matheson in the coming days.
He said: "My message to the cabinet secretary is that these campaigners should have a seat at the table when we meet.
"Mr Matheson cannot simply ignore the A96 Action Group. He has previously met the Save Bennachie campaign group, so it is hard to see how he can justify excluding this group.
"I have met them and they are highly organised, extremely professional and have some serious scientific expertise at their disposal.
"I think there is a way through this. Nobody is disputing that we need to reduce congestion in and around Inverurie, but it needs to be done in a way that causes the least disruption and delivers best value for money."
A Transport Scotland Spokesperson said: "Feedback from the public exhibitions we held in October 2018 is being taken into account as part of the process to select a preferred option.
"Transport Scotland aims to reduce emissions from transport in ways that promote sustainable environmental and socio-economic wellbeing.
"As Scotland's economy and population grows, so too will the demand for the movement of goods and people.
"Independent research commissioned by Transport Scotland showed that as low emission technology accelerates, together with behaviour change, we will be able to accommodate increased transport demand and significantly reduced emissions.
"To achieve this the Scottish Government is phasing out the need to purchase a new petrol or diesel powered car or van by 2032, a full eight years ahead of the UK.
"A sustainable, low carbon transport network brings many additional benefits to communities and businesses.
"Transport Scotland is committed to maximising these co-benefits which means that individual transport projects should not be assessed in isolation but in combination with projects and Scottish Government policies."