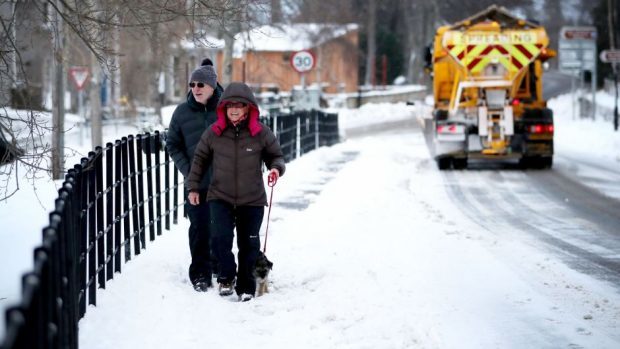 Hard-up infrastructure chiefs could be forced to dip into their reserves to find the cash to prepare and respond to even a mild winter, they have claimed.
Aberdeenshire Council is regularly criticised for its response to severe weather during the winter months.
But the authority has argued its meagre budget means it cannot possibly grit and clear every single road across the vast region.
---
>> Keep up to date with the latest news with The P&J newsletter
---
And now a new report reveals that even a mild winter would be extremely challenging for the council to deal with.
The current budget for "winter and other emergencies" for 2019-2020 is £4.52 million.
Infrastructure director Stephen Archer, who wrote the report, has said this falls far short of the funds needed for even a mild winter, like the most recent one the region experienced.
Mr Archer, whose report will be discussed by councillors on Thursday, has calculated the average council spend on winter maintenance as £6.68 million over the past decade, and £5.35 million since 2015/16.
His report adds: "Winter funding has increased by just over 3% over the past four year period, whereas real cost increases have outstripped that.
"In essence, the winter budget has reduced in real terms. Based on historic data, current funding levels are some way short of adequately funding a relatively mild winter."
Moreover, Mr Archer states that around £1.5 million is spent before the season has even started, on fixed expenditures such as depot costs, vehicles and forecasting services.
This means that around £3 million remains from current budget provision for
direct treatment costs such as fuel, salt and overtime.
Because of this, the council has had to use its reserves to ensure there will be adequate funding available to cope with the demands of next winter, particularly if it proves to be a severe season.
The roads service estimates that this upcoming winter could generate costs of more than £6 million, so now the authority has been forced to make an additional £1.5 million available from its coffers on top of its budget to ensure it is ready.
The authority has looked at a number of ways to help bolster its response, including enlisting the public as snow wardens and offering gritting shifts to staff from other departments.