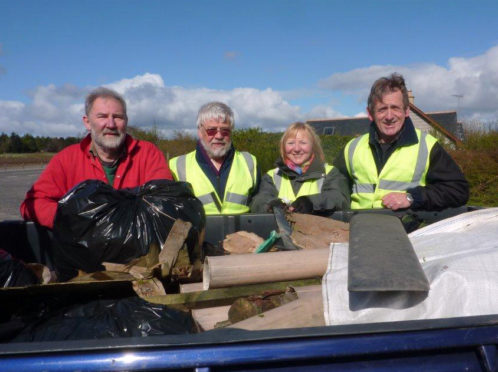 An award-winning environmental campaign group, which accused council bosses of neglecting their duty to clean up the roads, has been forced to wind up after losing a landmark court case.
George Niblock, secretary of Aberdeenshire Environment Forum (AEF), sued the local authority with a litter abatement order, the first case of its kind in Scotland, last year.
AEF claimed the council had failed to keep almost seven miles of the A96 Aberdeen to Inverness road clean, causing health and safety risks to drivers.
However, in February, a sheriff ruled in favour of the council and AEF, according to Mr Niblock, paid out £9,000 to the authority in an out-of-court settlement to cover judicial costs.
Now Mr Niblock, who at one time was waste and recycling boss for the council, has said the organisation, and its award-winning litter initiative, cannot afford to continue.
Mr Niblock said: "For far too long, all of the focus has been on the anonymous 50% of the population who break the law by dropping litter, with zero attention on the known almost 100% of duty bodies who break the law with apparent impunity – by not cleaning our streets and open spaces.
"We are disappointed that we were unable to convince the sheriff of the merits of our case, which was about so much more than the visual impact of litter and rubbish on our streets.
"We know that many members of the public, including politicians at all levels and senior council officers, feel that money is better spent elsewhere.
"This shows a complete lack of understanding of the significant and complex, detrimental impact and knock-on effects that dirty streets and open spaces have on our society."
AEF had claimed that Aberdeenshire Council had allowed debris, including decaying animal corpses, to build up on the road and associated cycle and footpaths.
Had the court order been granted, the council would have been required to clear any litter and refuse within four weeks.
But Sheriff Andrew Miller, who presided over the case, found Mr Niblock's evidence did not show the problem was a "consistent one" on the route.
Mr Niblock added: "Hopefully, our politicians and paid officials will wake up and recognise that the sea-change required is on land as well as in the oceans."
"It is particularly ironic that AEF, set up by politicians more than 30 years ago, to be a 'critical friend to the council' is to close as a result of what we view as a punitive expense claim."
However the council has issued a robust response to Mr Niblock and has claimed it made repeated attempts to resolve the dispute with AEF before it was taken to court, where it outlined that its "processes" complied with the law.
Philip McKay, head of roads, said it was regrettable that AEF was unable to continue.
He said: "Once AEF took the decision to proceed to court Aberdeenshire Council was forced to use public money to defend its position, one which the court ultimately agreed with.
"It is therefore right and proper, and in accordance with current policy and procedure, for the council to seek to recover these costs, in line with the decision of the court.
"It's important to note that public money intended for local services had to be used to defend this unsuccessful case and we consider it appropriate to recover it, as we are entitled to do, for the benefit of the services we provide to residents.
"This decision was not taken lightly, but ultimately AEF find themselves in this position directly because of their own actions, despite our attempts to seek resolution through direct engagement, at a senior level."