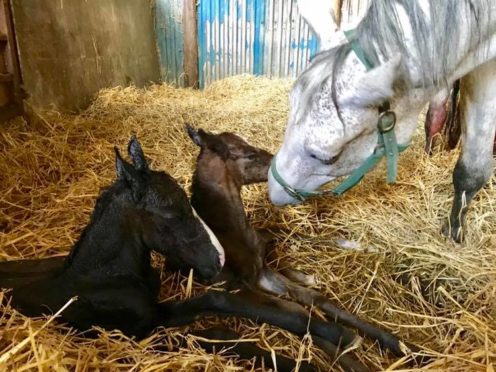 There was a delivery with a difference at a north-east stable as staff welcomed a very rare set of twins.
Pony My Cashel Eile gave birth to a colt and a filly at Craigmancie Stud, near Insch, while father Western Armada looked on proudly.
Colt finding his wee wobbly feet

Posted by Ashley Anderson on Saturday, 15 June 2019
The likelihood of a horse conceiving twins is around one in 10,000, and the chance of both foals surviving after birth is even slimmer.
But four days on from their birth, owner Alexandra Middler says the horses are all doing "wonderfully well", with the youngsters already bounding around the stable and being given the all-clear from the vet.
She said: "They're still on the right road and everything's crossed that we can keep them there."
Western Armada – who is known as Fred when not using his "posh name" – has fathered many other horses during his life.
The Connemara stallion, born in 1992, has also won a number of in-hand championships, including The Royal Highland Show.
Ms Middler added: "We had not managed to get any more pregnancies confirmed by our lovely Freddie, so to say his last two foals were twins is pretty amazing."