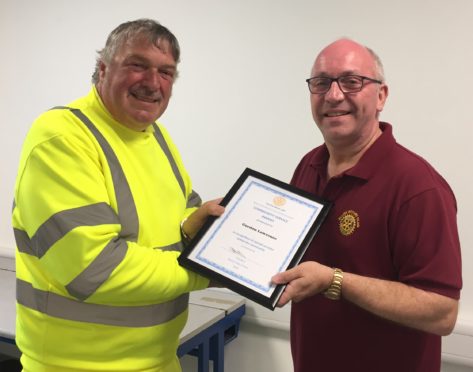 An Ellon man has been presented with a special award for his years of dedication to keeping his home town clean and tidy.
For nearly 40 years, Gordon Lawrence has worked for Aberdeenshire Council's waste and recycling team.
Starting out on the town's bin lorry, he later moved to Inverurie to work in recycling.
But for the last decade he has served Ellon as a waste orderly – keeping the streets sparkling by sweeping away rubbish and emptying the bins no matter the weather conditions.
Mr Lawrence has now been presented with a community service award from the local Rotary club.
While the accolade is usually only presented to volunteers, its members unanimously decided that he should receive the recognition.
Ros Bazter, Aberdeenshire Council's waste manager, said: "Gordon always talks to the public and is happy going about his work.
"I'm told he is planning to retire in a couple of years and after serving the public for all this time it will be a well-earned break for him.
"It's credit to him that he has been recognised by the Rotary club and people in Ellon for the work he has done over the years and the council is proud of his achievement."