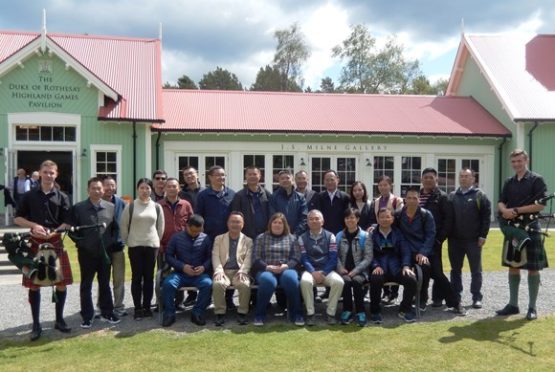 Chinese government officials, scientists and environmentalists visited Deeside yesterday to learn how to make the most of their own natural environment.
The 22-strong group from the Hainan Province is spending two months studying the UK and descended on the Cairngorms National Park to discover how such sites are established, operated and protected.
They made the trip north from the Henley Business School at Reading University, where they are studying environmental protection.
William Wang, who works for the school, is leading the trip and said the delegation was inspired to visit Aberdeenshire by comments made by the leader of the Communist Party in China, President Xi Jinping.
He had said, while governor of the Zheijang Province in 2005, that "clear waters and green mountains are as good as mountains of gold and silver".
Mr Wang said: "The Chinese government is trying to find the balance between economic development and ecological and environmental protection.
"That is why the government sent this group to learn about environment protection, including the national park protection systems in England and Scotland.
"Hainan province is very similar to the Scottish environment with lots of small mountains, green spaces, trees and plants.
"I believe the Cairngorms National Park is the best place to visit and learn."
The group visited the new Braemar Highland Games Centre and the Fife Arms Hotel as well as Braemar Castle and Invercauld Estate.
They will pay a visit to the Highland Folk Museum in Newtonmore tomorrow.
Cairngorms National Park Authority deputy convener, Geva Blackett, helped arrange the visit.
She said: "I am delighted that our friends from Hainan Province have chosen to visit the Cairngorms National Park as part of their business training.
"We have had a fantastic day in Braemar seeing some of the many projects and businesses here – from outdoor recreation through culture to conservation.
"Rural communities are the thriving and vibrant heartbeat of the Cairngorms National Park and Braemar is a perfect example of a successful community that is helping to achieve the aims of the park."