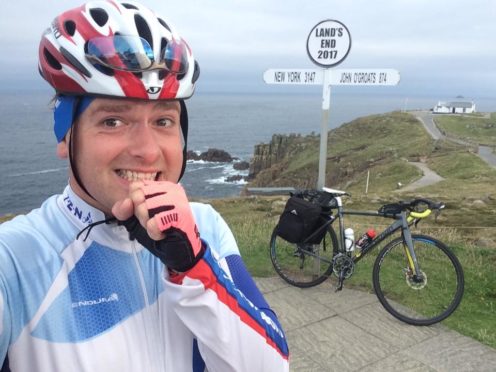 A north-east man is just weeks away from embarking on a gruelling charity cycle which will take him across the length of the UK.
Fraser Beattie, from Inverurie, has spent his entire adult life battling epileptic seizures, although he was not diagnosed with the condition until 2014.
But the redoubtable 39-year-old has refused to let his health issues slow him down and is gearing up for a 1,020-mile odyssey from John O'Groats to Land's End, to raise money for Epilepsy Scotland.
It comes off the back of a similar challenge in July 2017 when Mr Beattie cycled the opposite way and raised £2,500 for the organisation.
And now he wants to amass the same amount for the organisation, which he said provided invaluable support for him, particularly in dealing with the anxiety and depression that followed his seizures.
Mr Beattie suffered his first seizure in 1996 at age 16.
He said: "It affects me every day. I've only ever had three seizures, but it's everything else that has gone along with it that I battle.
"I have depression and anxiety, which is kept in check most of the time, and doing bike rides like this really helps and focuses my attention elsewhere."
The bike ride will pass through several places across Scotland, from Wick and Brora in the Highlands to Perth and Edinburgh.
And, with the prospect of pushing his body through another mammoth physical test, Mr Beattie has admitted he is beginning to feel a little apprehensive, with memories of his last cycle still fresh in his mind.
He said: "It dawns on you suddenly just how massive a challenge it is, and you end up wishing it was six months ago and you could train more and harder.
"I remember, once I got underway and had a few days in my legs, I started to enjoy it a lot more and grow in confidence.
"Seeing parts of Britain you would not necessarily visit normally was great and finding yourself in wee situations that test you were also good.
"Some very busy stretches of road were soon followed by very quiet back roads. There was getting soaked and then stripping off when the sun was splitting the trees.
"There was also taking on massive climbs on your own, seeing wildlife, getting a little lost, meeting random folk who donated, telling passing cyclists where you were going, singing to myself.
"It was all a very challenging experience and I think I've never really appreciated it."
To donate, go to www.justgiving.com/fundraising/end2endjogle19.