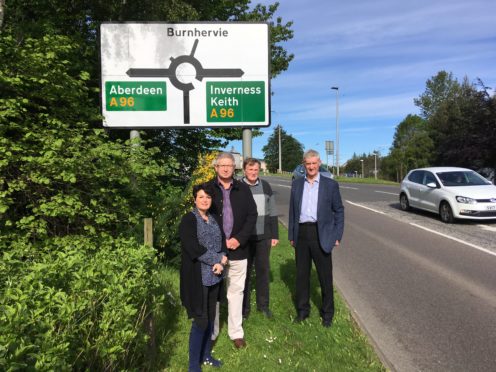 Campaigners are urging the public to make one final push to stop transport bosses from pushing ahead with controversial road dualling plans.
A consultation on expanding the A96 Aberdeen to Inverness road, between the Granite City and Huntly, finishes up tomorrow.
The options put forward by Transport Scotland would mean re-routing the 26-mile stretch away from the current road.
But A96 Action, which numbers about 400 people, has been calling for the existing road to be dualled because of concerns about the potential impact on the environment and homes presented by the options.
Lorna Anderson, chairwoman of the group, said: "A96 Action is deeply concerned that these plans violate the Scottish Government's climate change emergency declaration, waste billions of pounds of public money that is desperately needed elsewhere, damage the local economy, and despoil the green Garioch landscape, its wildlife and habitats.
"We fully support upgrading of the current A96 – which could be done with a category six dual carriageway  at a fraction of the cost and in a faction of the time of a totally new greenfield road.
"We urge everyone who cares about these issues to speak out now and send in a response to Transport Scotland's consultation exercise before Friday's deadline."
The group has the backing of local politicians and also recently produced a report from an environmental expert which revealed their preferred option would be significantly less damaging to the environment.
---
>> Keep up to date with the latest news with The P&J newsletter
---
The research showed that dualling the existing road would create 100,380 metric tons of carbon emissions, compared to 971,870 and 1,255,254 tons with the government's preferred options.
Meanwhile, some residents of Colpy and Culsalmond have also separately objected to the plans because they fear they will eventually be sandwiched between the new route, and existing roads.
Transport Scotland has previously said that it will take into account responses to the consultation when picking its preferred route.
The organisation has also said it is committed to reducing emissions from transport "in ways that promote sustainable environmental and socio-economic wellbeing".
A Transport Scotland spokesman said: "Re-use of the existing route between East of Huntly and Aberdeen has been investigated thoroughly as part of the design and assessment process.
"Due to a number of factors, such as the existing trunk road alignment, the impact on existing roadside properties, as well as the high number of junctions and accesses, the assessment concluded that it would be more suitable to develop the new dual carriageway offline from the existing trunk road at Inverurie, with the existing A96 retained for use as part of the local road network.
"However, some of the options under consideration do include sections of online upgrade on other parts of the route where this is feasible."
Anyone who wishes to respond to the consultation should email  a96dualling@transport.gov.scot