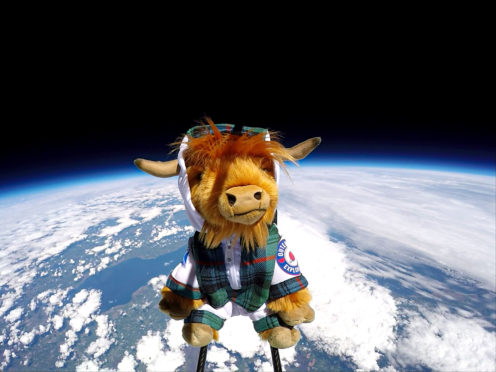 A Highland cow has almost jumped over the moon as part of a campaign to celebrate the 50th anniversary of the Apollo 11 mission.
Tourism body Visit Scotland has formed the Scotland Is Out Of This World Trail to showcase the nation's connections to each planet in the solar system, and to mark five decades since the first successful mission to put a man on the moon.
One of the communities on the tourism trail is Glenelg in the Highlands, which was twinned with a geographical feature on Mars also called Glenelg in 2012.
Residents held a ceilidh as part of the ceremony to mark the link, with guests including former Nasa astronaut Bonnie Dunbar – who flew on five space shuttle missions in the 1980s and 1990s on Challenger and Columbia.
Ms Dunbar's paternal grandparents came from Scotland, with her granny Mary born close to Gardenstown, near Banff.
Another location noted on the trail is Braemar in Aberdeenshire, the birthplace of Johann von Lamont, the first astronomer to calculate the mass of Uranus.
Mr Lamont on was born in 1805 and educated in Inverey, near Braemar.
He became director of the Bogenhausen Observatory in Germany in 1835, and undertook the task of creating a star catalogue which had about 35,000 entries.
To launch the scheme, Visit Scotland teamed up with the aerospace company Sent Into Space to lift a cuddly toy Highland cow more than 22 miles into the sky above Gilnockie Tower, the ancestral home of Clan Armstrong in the Borders.
The toy had been adorned with the tartan of astronaut Neil Armstrong's clan for the trip.
Malcolm Roughead, the chief executive of Visit Scotland, said: "For 50 years Visit Scotland has helped position Scotland as a must-visit destination to audiences across the world.
"This campaign offers the opportunity to delve into the past and celebrate the country's contribution to space exploration and astronomy, and its ancestral links to one of the greatest moments in history".
The pioneering "Highland Coosmonaut" was named BuzzBo by seven-year-old Peter Lunan from Dunblane, after Buzz Aldrin, the second man to walk on the moon after Armstrong, and the Gaelic word for cow, Bo.
The toy will go on display throughout the summer at the Edinburgh iCentre on the Royal Mile.