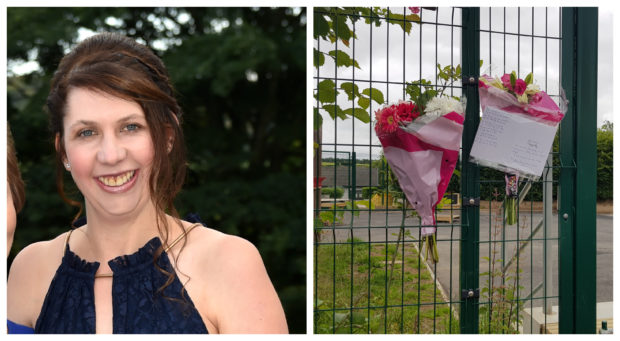 A north-east teacher has been killed in a crash believed to have happened as she returned from a family holiday with her husband and two young daughters.
Yvonne Lumsden died as a result of a collision near Ellon on Friday, and tributes were yesterday paid to the "kind" and "cherished" primary school teacher who was "loved by pupils".
It is understood that the 35-year-old is understood to have been returning to her home in New Deer after a trip to London with her husband Stuart, 33, and their six and four-year-old girls.
Police said Mr Lumsden and the children suffered minor injuries in the crash.
Heartbroken friends, colleagues and parents of pupils she taught at Stuartfield School, near Old Deer, yesterday paid tribute to the "dedicated" mum.
Neighbour Sheena Murdoch said the Lumsdens were a "perfect little family".
She added: "They are unbelievably nice. Yvonne would speak to anyone.
"They had just been on holiday for a week, this is just so sad."
Sympathy cards were left alongside flowers and candles at the school gates, with one family describing Mrs Lumsden as a "kind, cherished teacher taken too soon".
The note contained a poem which said: "Just because we can't see you, does not mean you are not here."
One staff member was in tears as she took in the tributes left for her colleague, who it is understood originally came from Grantown.
Stuartfield mum, Baiba Briede, said her 10-year-old daughter had been in Mrs Lumsden's P6 class until school broke up for summer and last night described her as a "lovely teacher and a lovely person".
She said: "This is absolutely devastating to hear. It's horrible.
"The kids loved her and I couldn't say a bad word about her, I respected the way she taught the children.
"She was very reassuring and I could tell she cared about my daughter.
"All the parents are absolutely devastated, it's so tragic."
Outside of the classroom, Mrs Lumsden had started a number of clubs at the Aberdeenshire school and encouraged pupils to take up athletics.
Head teacher at the small village primary, Stuart Sievwright, said: "Stuartfield School and the community are in shock.
"Yvonne was a very dedicated teacher who always went above and beyond for her pupils.
"She was very good at what she did, with writing and art being her favourite areas to teach as well as encouraging pupils to take part in another of her passions, running.
"Mrs Lumsden was a well-liked teacher with many tributes coming in from current and past families.
"The staff can't believe what has happened and she will be sadly missed by all of us. Our thoughts go out to her husband and daughters."
The crash took place on the A948 Ellon to Auchnagatt road, close to the junction with Golf Road just north of Ellon, at about 4pm on Friday.
The road was shut for several hours following the crash, which involved the Lumsdens' Volkswagen Polo and a large trailer which was being towed by a white Mitsubishi L200 pickup truck.
Police yesterday issued a fresh appeal for any witnesses to come forward to help piece together what happened.
Road policing sergeant, Andy Meikleham, said: "Our thoughts are with the family and friends of Yvonne Lumsden at this difficult time.
"We have spoken to a number of witnesses but would like to hear from anyone who saw the collision, assisted with moving the trailer at the scene or saw either vehicle beforehand and has not yet spoken to us."
Anyone with information should get in touch with the police by calling 101 and quoting incident number 2945 of July 12.