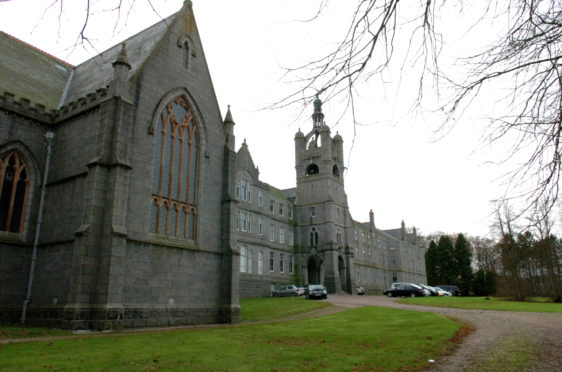 The developers behind proposals to transform a historic seminary into houses, a hotel and and a conference centre have said they are confident there is still demand for the scheme.
JW Muir Group and its subsidiary Hermiston Securities are seeking more time to renovate Blairs College and its estate, having first secured permission almost a decade ago.
Progress at the site, where Catholic priests were trained until it was closed in the 1980s, has been hampered by the oil and gas downturn.
Forced to go back to the drawing board by crashing house prices and struggling hotel trade, the developer has been forced back to the drawing board.
The latest application has decreased the size of the 300 homes planned to better fit with the region's property market.
Stewart McPhail, director at Hermiston, said: "It's really about changing the types of houses to fit with where the demand is in the housing market.
"The intention is to open up the site more to give people more green space and make it more enticing to go there.
"In the past year or so we have seen sales pick up again in the Hamlet part of the site, near the Dee, and we believe that's due to the difference in mix of houses we are offering."
And Mr McPhail said the firm was also confident that there was room for another hotel in the region, despite the sector's well-publicised struggles.
The 540-acre site, which is seven miles from the South Deeside Road, is still home to Blairs Museum and the A-listed New Chapel.
A report in support of the application states: "The justification for this was unforeseen delays to the implementation of development at Blairs due to a depressed north-east housing market, as a result of the fall in the oil price in 2015, and priority being given to the building of houses at Blairs Hamlet, an enabling development for the footbridge across the River Dee at Blairs.
"It is also important that development at Blairs is not delayed unnecessarily any longer in order to ensure the conservation and future viability of the listed buildings at Blairs."
Planning officers have already given tacit backing to the developer submission of a new application.