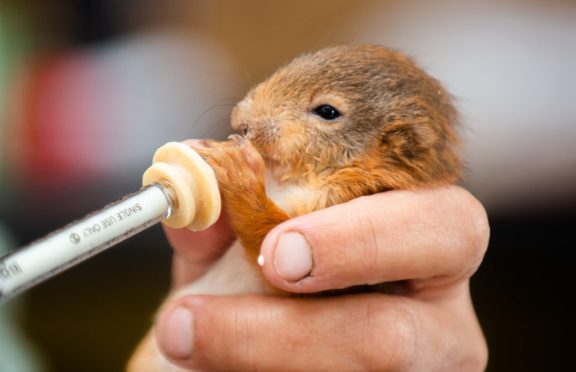 An adorable baby red squirrel found lying on the ground covered in bite marks has survived after being kept alive in an incubator for two weeks.
Three-week-old Delilah weighed little more than an ounce when she was spotted by a dog walker in Inverurie, Aberdeenshire.
It is thought the tiny bundle, who was no heavier than a slice of bread, may have fallen or been dragged out of her drey by a rat.
Her rescuer initially took her home to warm her up, but fearing she would not survive they then contacted Keith and Pauline Marley, who run the North East Wildlife and Animal Rescue Centre, known as New Arc, near Ellon.
Mrs Marley said Delilah's core body temperature had been so low it was "touch and go" as to whether she would pull through.
But after a course of antibiotics, two weeks in a special incubator, and lots of TLC, she is now thriving.
Mrs Marley, who still feeds the squirrel by syringe every four hours, said: "It is lucky someone spotted her and picked her up because she wouldn't have survived long out of the nest."
Delilah was too weak to crawl back up the tree and not old enough to make the high-pitched whistle to call for her mother.
And with no fur or the distinctive bushy tail, the person who found her was initially unsure what kind of animal she was.
Mrs Marley said: "She was totally bald when she came in and she weighed just 38g. She was just a tiny toot.
"She had quite a few bites on her too – it is possible a rat had been nipping at her – so she had to be treated with antibiotics.
"It's always touch and go because when they're that small they can't regulate their own body temperature, but she's done marvellously.
"She's getting fluffier every day and her tail is starting to look like a squirrel's tail.
"She's opened her eyes and she's starting to move about more and scrambling my pocket when I'm not looking."
Delilah's teeth are also starting to come through – and that is when looking after her will get a little more tricky.
Mrs Marley, who named her after singing the song Delilah to her one night, said: "She's not biting yet but generally they're quite bitey things to look after."
Delilah came out of the incubator a week ago and is now living in a cage in Mrs Marley's home to give her the peace and quiet she needs as she continues to be nursed back to health.
It will, however, be next spring before she will be ready to be released back into the wild.
Mrs Marley said: "Normally squirrels born at this time of year would leave their mother around January or February time. But I'm not releasing one at that time of year with no stash of food to survive."
It is hoped the animal can be released at a local country estate, where she will be able to enjoy additional food regularly put out by the owners.
Delilah is one of almost 850 wild animals, including badgers, foxes, hedgehogs and sparrowhawks, to come through the doors of the New Arc this year.
Their intake of animal patients was up by around 25% on last year and they are hoping by next spring to open an animal accident and emergency unit to meet demand.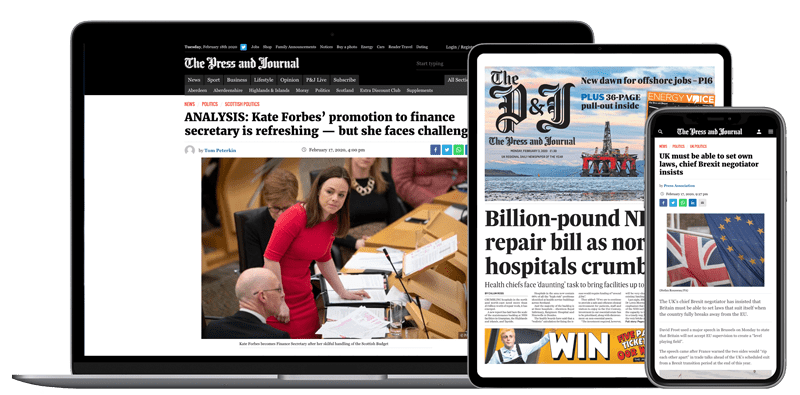 Help support quality local journalism … become a digital subscriber to The Press and Journal
For as little as £5.99 a month you can access all of our content, including Premium articles.
Subscribe